About Our Desktop Software and Mobile Phone Appointment Reminder App
The fact is, people are forgetful. Our GoReminders appointment reminder software and app will solve this problem for you!
Try It Free
Our Automatic and Easy To Use Appointment Reminder Software App
Our appointment reminder app and software sends out reminders to clients via SMS & email. It is easy to set up and once you have the reminders scheduled in the app, our software will do the rest. You don't have to constantly go in every time you want to send reminder text & email messages. You basically can set it and forget about it until you need to make a change.
Our Desktop, Tablet and Mobile Phone App For Appointment Reminders Does All The Work For You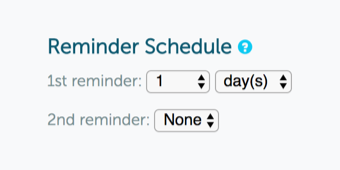 As a business owner, you should be focusing on your business and taking care of your clients. Constantly updating your appointment calendar and sending out reminders can be tedious and time consuming. But you need to limit appointment no shows and keep things running on time, all at the same time. That is where our reminder app comes in to play.
You already know that no shows cost you time and money. That is why integrating an automated appointment reminder app / system in your business is so important. Our GoReminders desktop and mobile phone app (also works on tablets) keeps track of upcoming appointments and automatically reminds your clientele at the appropriate time so you don't have to.
Our Desktop and Mobile Device Appointment Reminder Application is So Simple and Easy To Use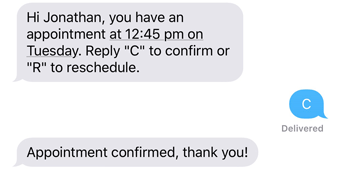 Even if you've tried other appointment reminder apps and services in the past, we feel that you'll find GoReminders software much easier to use. It can save you time and increase revenue. We built GoReminders to simplify your life, and we put a huge emphasis on simplifying the process.
You don't have to take our word for it because we let you try our automatic appointment reminder software for free! Our client appointment reminder application free trial comes fully loaded with all the features so you know exactly what you will be getting.
Here are just a few of the automated appointment scheduling reminder features our app has to offer:
Our appointment reminder messages are completely and easily customizable by you.
Our appointment reminder app works with iOS and Android on any iPhone, iPad, Android tablet and phone and any desktop computer (Mac and Windows).
It is the simplest appointment reminder software service available.
We made sure that our appointment reminder software and app is affordable.
We offer help and support in case you need some help getting started with appointment reminders.
Here is some info about our Daily calendar reminders app view: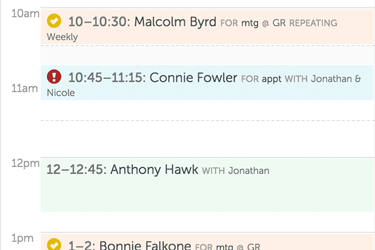 Our reminders scheduling calendar is simple and clean. The reminder app software comes with intuitive layouts that make it easy to view your schedule by day, week or month. It can also be viewed in an agenda or list format.
Our reminders app is easy to integrate with Google Calendar and Outlook on both desktop computers and mobile devices. Simply enter the appointments in GoReminders and they will automatically sync to your Google Calendar, Microsoft's Outlook.com calendar, or pretty much any other calendar you may be using.
Sounds too good to be true? As we mentioned above, just sign up for the free trial of our appointment reminder app and software to see for yourself!
See why our customers think that our GoReminders appointment reminder app and software is the best:
"I really enjoy GoReminders! It's definitely a great asset to our company and saves us loads of time by both reducing the amount of "confirmation calls" we need to do manually, and the amount of missed service calls due to locked gates or forgotten appointments. GoReminders is efficient and simple to use." - Melainy Noah, Office Manager @ Elite Pool Service
Q. How do I send an appointment reminder?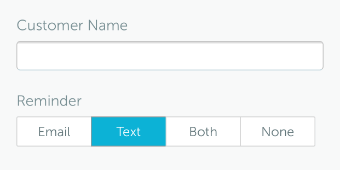 A. The easiest way to send an appointment reminder would have to have an app send it for you. The beauty of GoReminders is that it automatically reminds your clients at the right time. Therefore, if you want your clients to get sent appointment reminder messages from our app, all you have to do is this:
Enter the appointment in GoReminders.
Make sure to include your client's phone number or email address.
Choose "Text" or "Email" or "Both" as the "Reminder Type" for the appointment.
Sit back, relax and the appointment reminder will automatically be sent at the right time.
Q. How do I send an automatic text reminder?
A. Sending an automatic text reminder is easy with GoReminders. When you enter the appointment, choose "Text" or "Both" as the "Reminder Type" for the appointment.
Q. How do I send a text reminder?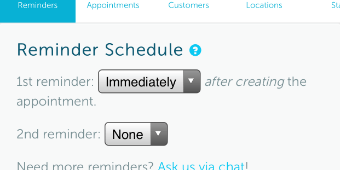 A. If you want to send a text reminder immediately, simply follow these steps:
Go to Settings > Reminders in GoReminders.
For the "1st reminder" coose "Immediately" which will make a reminder get sent right after you create an appointment.
Enter an appointment into GoReminders, and choose "Text" or "Both" for the "Reminder Type"
Send reminders to your clients. Try it free!