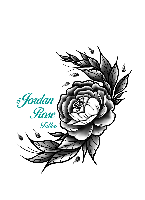 Scheduling an Appointment...
PLEASE READ BEFORE PROCEEDING! THANK YOU!!
I do not tattoo minors, you must be at least 18.
A very general quote will be given for your tattoo once you inquire, but without having a design done or thought out yet, it's hard to be totally and completely accurate with it.
My hourly is $150. Most of my sessions are 4-5 hours at most.

I am a black and grey artist only. Please do not inquire about color. At this time I am just offering larger scale pieces, like half sleeves, sleeves, back pieces, and pieces usually larger than 6 or so inches. **Floral, geometric, and skulls (animal or human) are the majority of subject matters I offer at this time. ** My style does not work for coverups, so please do not inquire for a coverup. I do offer SCAR coverups/camouflages though! I love to do them, however, there are some requirements on whether or not it's doable so contact me if you're interested in a scar coverup! I also do not "fix", add on to, or finish existing tattoos. I require a new area of skin to have my design for you.

I require a $51.50 (there is a $1.50 processing fee) NON REFUNDABLE deposit over Venmo to officially get in my books. This holds your spot, acts as a drawing fee, and will also get taken out of the final price at the final appointment(if applicable).
My appointment time is 9:30am only, it is nonnegotiable unless you need an earlier time.
I send my designs the night before your appointment. It needs to be understood that this is NOT common, and is a total luxury to you. I also offer a couple small changes once the design is sent. I will NOT send you the design earlier than the day/night before. I am extremely extremely busy, so sending the design and quickly getting it approved by you will be my expectation. The design is to be approved before the morning of your appointment, and changes will NOT be made once it's approved. You are not to send this design to anyone at all, I only care about your opinion for your own tattoo. If, for some reason, I do not hear back on the design by 9pm, we will have to reschedule.

Requests of changes to what the original idea was when the deposit was put down will most likely be denied.

I have a 48 hour cancellation or reschedule policy. Unless it is an EMERGENCY, you will be required to put down another deposit if you are rescheduling under the 48 hours, and you completely forfeit your deposit if you cancel, no matter when you cancel.
If you are 20 minutes late to your appointment without notice, you forfeit your appointment and your deposit and will need to put down another in order to reschedule. My time is valuable and that is to be respected.

In the "notes" section after you choose a date and time, please provide a detailed description of what you're wanting me to create for you, how big IN INCHES you want the tattoo, this does not have to be exact. If you are inquiring for a half sleeve or sleeve, it is not necessary to include inches. Also provide a budget, if you have one.
I will most likely reply to your booking request asking for reference photos since you cannot send them through this platform! So please make sure you have some, preferably some of my own work.