Getting customers through your small business' doors is an imperative part of a successful company, but there are a few steps that need to be taken before those wheels are put in motion. And, if your business hasn't implemented an online appointment scheduling tool, there is plenty of room for human error that can ultimately lead to the loss of customers: accidental double-bookings, scheduling mistakes, and too much back-and-forth between your business and a now-frustrated customer are all too common when you're handling appointments manually. 
The simple fix is switching from manual appointment scheduling to online appointment scheduling using an appointment reminder app. Automating this key aspect of your business eliminates any issues that may arise if your business handles scheduling what is now an outdated way. Check out these top four reasons your business needs online appointment scheduling to increase revenue and growth.
It's easier for your customers to use.
Waiting on hold is nobody's idea of a good time, and if you're scheduling appointments manually, that means your customers are at the mercy of your employees' time. Having a phone call get sent to voicemail is a similar timesuck: it adds the steps of listening to the customer's voicemail, calling back in the hopes that they answer, otherwise a game of phone tag ensues. Customers need a quick, efficient way to schedule an appointment with your company — otherwise they may end up taking their business elsewhere. With online appointment scheduling, you eliminate the middleman and allow your customer to choose a date and time with ease.
Customers can book anytime, anywhere.
In the world we live in, people are constantly on the move, and customers should have the ability to schedule an appointment no matter where they are, at a time that is most convenient for them. Whether a customer is out for a walk on their cell phone, on the couch with their tablet, or at work on their computer, the accessibility of online appointment scheduling allows for ease of booking. And, if we're being completely honest, most people don't love talking on the phone with strangers — it's much less anxiety-inducing to move a computer mouse around than it is to talk with a receptionist for many. Allowing the customer to choose which method of contact they prefer can also lead to a more positive experience associated with your business.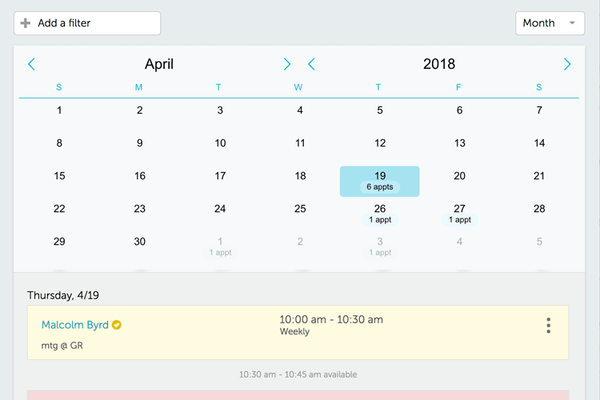 Online appointment scheduling reduces the risk of no-shows. 
The only thing that wreaks havoc on a business more than a scheduling mishap? A no-show customer. When your business is manually scheduling and managing appointments, it can be easy to miss calling to confirm a customer's upcoming appointment. Without an appointment reminder, you're running the risk of lost revenue and wasted time. If your business implements an online booking app that can send automated text message reminders and confirmations, your risk of no-shows vastly decreases. And, should your customer need to cancel, you'll have ample time to try and fill their appointment time slot. 
Businesses can look at customer data for insights.
Most online appointment scheduling apps offer booking data and analytic insights into your business. This means you can review important customer trends that can help you better understand what it is they're wanting from your business. Reviewing your most popular days and times for appointments and gaining insight into what service is booked most frequently are incredibly helpful tools that allow your business to take action in order to better serve your customer. Whether that's shifting your business hours or offering additional consultants for a particular service will give your customers what they want, and give you a deeper understanding on how to market your business moving forward. Without online appointment scheduling, manually collecting this data would simply take too much time and effort.
Making the switch to an online appointment scheduling software might just prove to be one of the most effective tools for the overall growth of your business.