Text reminders – easy & automatic
Let GoReminders keep track of when to send a text message reminder to your customers. Then you can relax and be ready for when customers show up.
Try It Free
Smart Text Reminders
Text reminder (also txt reminder) [noun]: an electronic SMS reminder text message sent to a mobile phone that causes someone to remember something; often used instead of a phone call reminder. "GoReminders text reminder software automatically sends each of customer a text reminder before an appointment so you can focus on your work."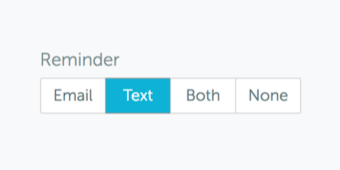 Text Appointment Reminders
GoReminders is the easiest way to get started with automatic text message reminder notifications for your clients. You can schedule your appointments a month in advance or a day before, and GoReminders is smart enough to know when to send text appointment reminders to your clients.
Text reminders are by far the most popular customer reminder method among GoReminders remind text service users. The other options are Email, Both Text & Email, and None. You can decide on the reminder method based on what each customer wants, and our email (yes, GoReminders is also an email reminder service) & text reminder system will remember that choice so it's less work for you. This is the easiest-to-use calendar reminders app that's always updated to save you time.
A recent study at the University of Kentucky about text message appointment reminders and reducing no-shows found that "Cost-benefit analysis yielded a potential 1:6 return." Just from text messaging reminders. That's a 6X return on investment – simply by using a business text messaging service! For example, if you take our $20/month plan, a 6X return would mean an extra $1,440 in money you made over the year. Many of our users find that GoReminders saves them even more money than that when sending reminder texts. We think the ROI is even better than 6X for GoReminders users because we make it so inexpensive to send text reminders. When we did a survey, the average amount of revenue saved was an astounding $27,404 per year using our reminder app that sends texts. That seems crazy at first glance, but the amount of money lost by no-show and no-call appointments is much larger than it seems. It's like watching a leaky faucet – it seems like just a trickle, but if you plug the drain (or check your water bill) you'll quickly see how much it builds up. And since our appointment reminder software has a completely free trial, you'll be able to see the impact on saved time and increased revenue when you test it out.
"Findings show text messaging is effective in reducing no-show appointments and is cost beneficial. Technology including text messaging is becoming common practice and its use is supported by current evidence-based research. Utilizing high-tech methods such as text messaging reduces no-show rates, is cost-effective and increases clinic and provider productivity."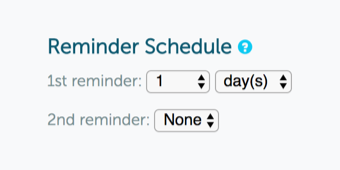 Text reminders are easy for having your clients confirm appointments. They just reply "C" to confirm and the appointment will show a check mark in the calendar! GoReminders also support multilingual text reminders in any language and recurring text reminders.
Use the GoReminders text message reminder system for your appointment book, and never worry about remembering to send text message reminders to a customer – your phone doesn't even need to be on. That saves you time & makes you money. Try it free to see the beautiful simplicity of our auto text reminder service on iPhone, iPad, Android, Mac, PC (Windows), and any web browser on any computer. Literally 10 seconds to get setup and you'll be entering appointments – fastest and best text reminder app for iPhone and Android.
Customer Feedback
"I really enjoy GoReminders! It's definitely a great asset to our company and saves us loads of time by both reducing the amount of "confirmation calls" we need to do manually, and the amount of missed service calls due to locked gates or forgotten appointments. GoReminders is efficient and simple to use." - Melainy Noah, Office Manager @ Elite Pool Service
FAQ
How to send SMS client reminders with GoReminders
GoReminders makes it extremely easy to send reminder SMS messages. You don't need to have your iPhone or Android or computer on at the time the reminder gets sent or anything. You don't need to do anything to trigger the SMS text reminders—after the appointment is scheduled in GoReminders, our system automatically sends the reminder to your client based on your account settings.
How to write a reminder text message
The best reminder text messages are short and informational. Keep it less than less than 140 characters to avoid it getting broken up into multiple chunks on some phones and carriers. That can happen if the message is longer than 160 characters, but we recommend your templates be less than 140 characters because your reminder message will often include template tags which means the actual message might be longer than the template when the tags get replaced with real info (such as someone with a long first name). GoReminders allows longer reminder message templates if you do need extra room.
How to send a reminder text on iPhone or Android
Automated text message reminders are sent for you behind the scenes, regardless of whether you're on an iPhone or iPad or Android or computer.
Can you remind me via text message?
Yes! You have the option of getting text or email reminders for yourself and staff members.
Send reminders to your clients. Try it free!