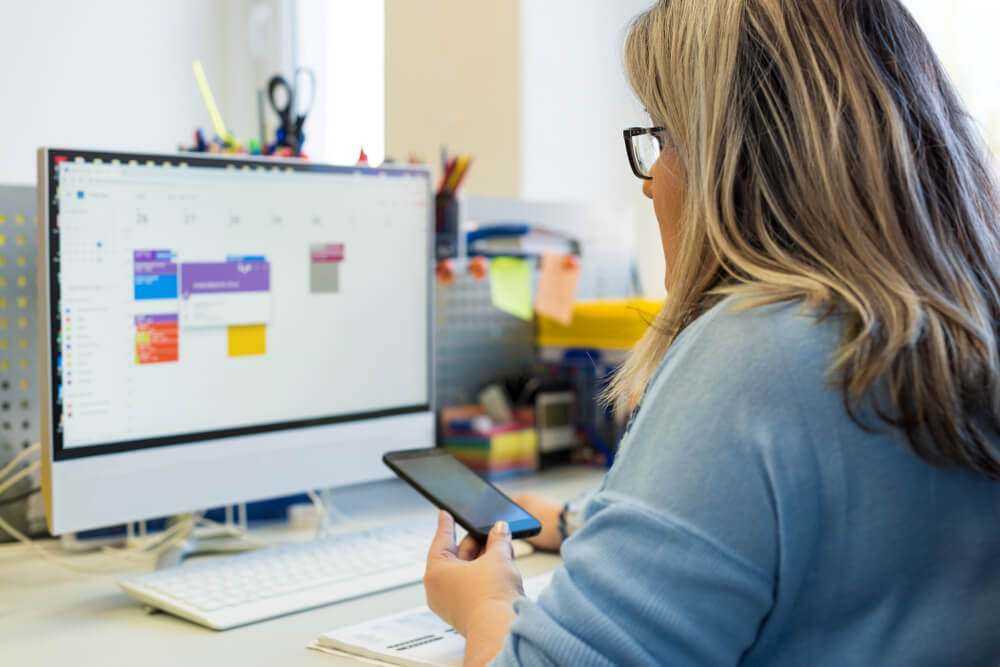 As a small business owner, it's crucial to stay organized and efficient in your day-to-day operations. This is especially true when your business is driven by appointments. If you're trying to keep track of all your appointments and meetings on paper, it's easy to become disorganized and overwhelmed.
Luckily, there's a lot of great technology on the market to help you improve your scheduling workflow. Scheduling software makes it easier to schedule projects, manage staff, and keep track of all your appointments in one place. With automation and other customized features, the right platform can increase productivity and revenue.
In the past, small businesses had to use several tools to manage the entire workforce and keep track of appointments. Today, technology has made it easier for businesses to become more efficient by allowing them to manage everything from one interface.
Let's take a look at what kind of scheduling technology is available in today's market and how each one can help you achieve your business goals.
How to Find the Best Scheduling Software for Your Needs
Depending on which software you choose, scheduling software can be used to schedule meetings and appointments, manage labor hours, and even send reminders to customers and staff. These programs can also ease the pressure of scheduling shifts, covering absences, creating rosters, and assigning duties.
Some scheduling software is best suited for managing internal meetings (e.g. with large corporate teams). Others are better suited to manage external meetings (e.g. businesses with multiple customer appointments). No one scheduling program will meet every type of need, so it's important to do your research to decide which features matter most to you.
Here are some of the features you may look for in the ideal scheduling software:
1. Mobile App Access
Scheduling managers and supervisors are not always in the same place. Plus, many customers may access your calendar and booking form via their smartphones. The ability to access your scheduling software on mobile devices makes managing your team and customer base much easier. A scheduling application that you can access quickly from your phone or desktop computer can help you make changes and approve scheduling decisions in a matter of seconds.
2. Great Customer Support
When you get new scheduling software for your business, there is bound to be a short learning period where your team adjusts to the new workflow. A platform with great customer support can shorten this learning period (and boost your return on investment) by helping you make the best use of all its features. Look for a company that's eager to provide tips for use and answer any questions you may have. It's best if support is also available through multiple channels (e.g. live chat, email, or phone). This will make it easier for you to start using the program and save time on implementation.
3. A Demo or Free Trial
Committing to another monthly bill as a small growing business is tough, especially if you aren't sure if the software is going to work for your needs. When choosing scheduling software for your business, look for a free trial or a money-back guarantee before you sign up. While you can learn a lot about how a program works by reading reviews and browsing the website, it's better to get your hands on it and see how it works in action. Try out the software before you buy to make sure it works for you and your team.
4. Flexible Pricing
While most software subscriptions only offer monthly pricing, you can usually get a discount by paying yearly. Depending on your business, this may also be better for your billing cycle. Look for a scheduling app that allows you to pay either monthly or yearly (with a discounted yearly rate). You may even find one that allows you to switch to yearly billing after a month of testing out the software to see if it's a good fit.
5. Ease of Use
One of the main reasons you want to invest in scheduling software is to save time (not to mess around with setup and customization). While some platforms offer a complex interface with a lot of functionality, it's easy to get lost in the settings. What's more, they may require extra setup from your customer, which can deter them from using it at all. Great scheduling software should be easy to set up and use on an ongoing basis. It should also be easy for your customers to use in areas such as:
Receiving reminders via text & email
Communicating back and forth
Confirming appointments
Client self-booking (only if you want to offer that to your customers)
6. Stellar Security
An app with great security is a must, especially if you're in an industry where confidentiality is a legal requirement (e.g. healthcare or finance). Before you buy, make sure the software has sufficient security protocols to protect customer data. In some cases, you may want the option to restrict access by user or position.
7. Powerful Communication Features
While scheduling software should reduce the amount of manual effort required in managing appointments, sometimes you need to send a message to customers or staff. Great scheduling software will also make it easy to communicate with everyone involved in the meeting. Look for a scheduling platform with 2-way direct messaging, text and email reminders with easy reply features, message blasts, and follow-up message capabilities.
8. Automation
The best software automates a good portion of the scheduling process. You may look for great automation features such as:
Auto-recurring appointments
Automatic appointment reminders
Automatic labor allocation
Video conferencing link generation
Customizable message templates and sequences
Automatic customer response management
Now that you know what to look for with scheduling software, let's take a look at the 10 best scheduling software applications on the market today: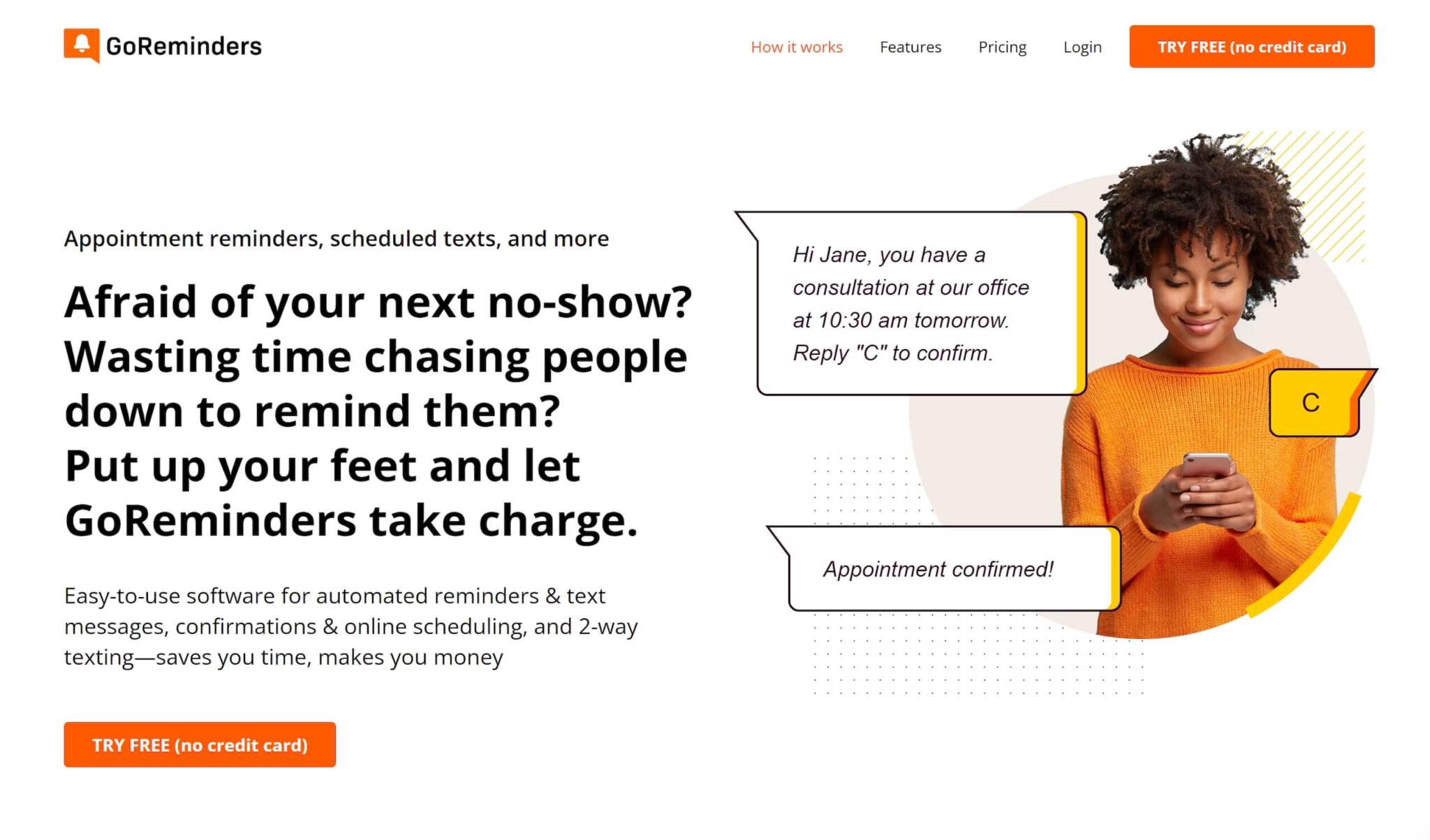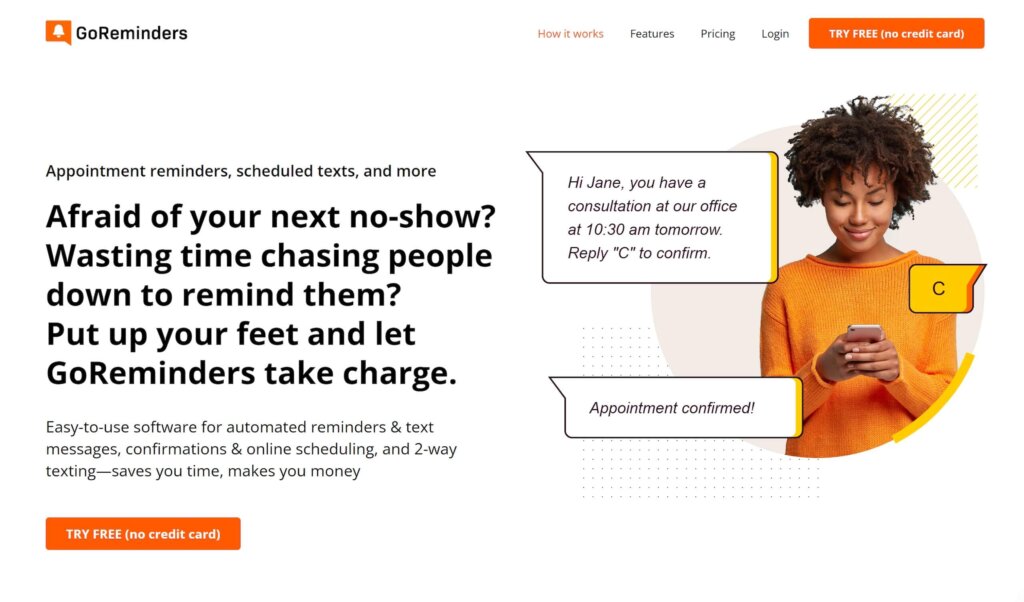 1. GoReminders
GoReminders is your all-in-one tool for scheduling and appointment reminders. For each new appointment you create, you can easily send automated reminders via email or text to customers, staff, and even yourself. These messages can be customized to work for one-off or recurring appointments.
The platform is unique in the fact that it was built out of necessity. Both founders were struggling with missed appointments in their own small businesses and decided to build software to solve that problem.
GoReminders is designed to be quick and easy to use. That's why it only takes 30 seconds to set up. From there, you can easily create and manage appointments, clients, and reminders with just a few easy steps. Just define the type of appointment, client name, service, time, date, and length. For regular customers, you can also set up recurring appointments and view them from all your calendars.
Features
There's a lot to discover with GoReminders, with plenty of features to optimize your scheduling workflow. Here are some of the most popular features:
Calendar and Appointment Management: You can use the calendar feature in GoReminders to schedule new appointments for customers and staff and even schedule group appointments across multiple offices. The calendar functionality also prevents double-booking and allows you to require advanced notice for new appointments. You can auto-sync these appointments with Google Calendar, Outlook, iCal, and other third party calendars. The software also syncs to iPhone, iPad, and Android apps across an unlimited number of devices.
Customizable Booking Forms: GoReminders allows you to create your own branded booking form. Customers can access this form at all times to book appointments based on the availability you set. You can easily customize this booking form to allow for instant booking, which allows you to accept new appointments 24/7 (even while you're sleeping). Otherwise, you can have customers request multiple options for appointment times. This allows you to keep control over your schedule while still giving customers an easy way to request appointments with you.
Analytics: GoReminders provides scheduling analytics to help you analyze scheduling patterns and data from message blasts. This will help you make informed decisions about staffing, scheduling, and customer communications.
Automatic Appointment Reminders: The most powerful feature with GoReminders is the ability to send automatic appointment reminders. For each appointment, your customers can receive SMS and email reminders to confirm or reschedule their appointments. Studies have shown that this can reduce no-shows by 80% or more, and customers reviews back this up.
Easy Replies & Appointment Confirmations: Unlike many other scheduling platforms, GoReminders offers a 2-way texting interface that connects to the automatic appointment reminder functionality. If you want your customers to be able to easily confirm appointments (which can dramatically increase show-up rates), GoReminders can automatically ask your customers to reply "C" to confirm in the text reminder message. When your customer confirms the appointment, your calendar is automatically updated. When customers receive a text reminder, they can also reply directly with anything they want. You will always get their response in your direct message interface with that person. There, you can easily continue the discussion in that channel with custom messages at any time. You can also get an email or text notification yourself if you want.
Customizable Message Templates and Sequences: Both email and text reminders can easily be customized to include relevant information about the customer using a variety of template tags. You can then arrange these templates into custom sequences, so you can send appointment reminders and follow-up messages to request reviews and feedback automatically.
Marketing Features: By using the message blast feature, you can quickly send a message to your entire customer base. Use this to promote sales or inform your customers of changes in your service. You can also automate follow-up messages to request reviews or remind customers to schedule their next appointment.
Other valuable features with GoReminders Include:
Recurring appointment scheduling capabilities
Customer information management
Multi-location/staff schedule management
Mobile app access
24/7 online booking
Website booking integration
Alerts/notifications
API and Zapier integrations
Who Is the Ideal User for This Software?
GoReminders is a cloud-based multilingual appointment reminder service and scheduling tool best suited for small businesses (such as insurance agents, financial advisors, salons, dentists, doctors, auto repair shops, tattoo artists, etc.). Many large companies have made good use of the platform as well, including Aflac, Guitar Center, and Lowes.
Aside from being easy to set up and easy to use, GoReminders' most powerful function is the ability to decrease no-show appointments with text and email reminders. This can save you a significant amount of time and money. Plus, if you need help making the software work for your operation, GoReminders offers great customer support to help you make the best use of all the features it has to offer.
That said, if you are looking to manage shifts for factories or internal meetings for large teams from hundreds of locations, this platform may not be the best choice. Also if you're a software programmer looking to integrate scheduling into your own platform via API, GoReminders may not be optimized for your needs. The software is optimized for small businesses and independent contractors with small to medium-sized teams.
Pricing
To make sure the software will work for your business, GoReminders offers a 14-day free trial with no credit card required. This way, you can test out all of the features and select a pricing tier that works best for you. After the trial, GoReminders also offers a 30-Day money-back guarantee, in case you feel the software isn't a good fit for your business.
GoReminders offers a three-tier pricing model with two payment options: monthly and yearly. Each tier offers more features, and the yearly plan gives you 2 months free. Here's the breakdown:
Starter: $30/month ($300/yearly) – Includes 15 appointments per month, 1 calendar, 1 staff member, and 1 text and email reminder per appointment. You can also customize your messages and schedules and send message blasts with this tier.
Business (Most Popular): $60/month ($600/yearly) – Starts at 75 appointments per month with unlimited calendars and staff, and 3 text/email reminders per appointment (plus 2 automatic follow-up messages). This also includes calendar integrations, appointment confirmations, 2-way texting, your online booking page for clients to book themselves, message sequences, recurring appointments, and many other powerful features that are useful for growing businesses.
Premium: $240/month ($2,400/yearly) – Starts at 75 appointments per month, with unlimited calendars and staff, plus a dedicated account manager at GoReminders. Regular training sessions and early access to new features will help your staff use the program most effectively. With this tier, you can also remove all GoReminders branding. While a Premium plan will provide you with a stellar experience, it is really only necessary if you require more white-glove onboarding with a lot of support or you want to integrate with GoReminders' API.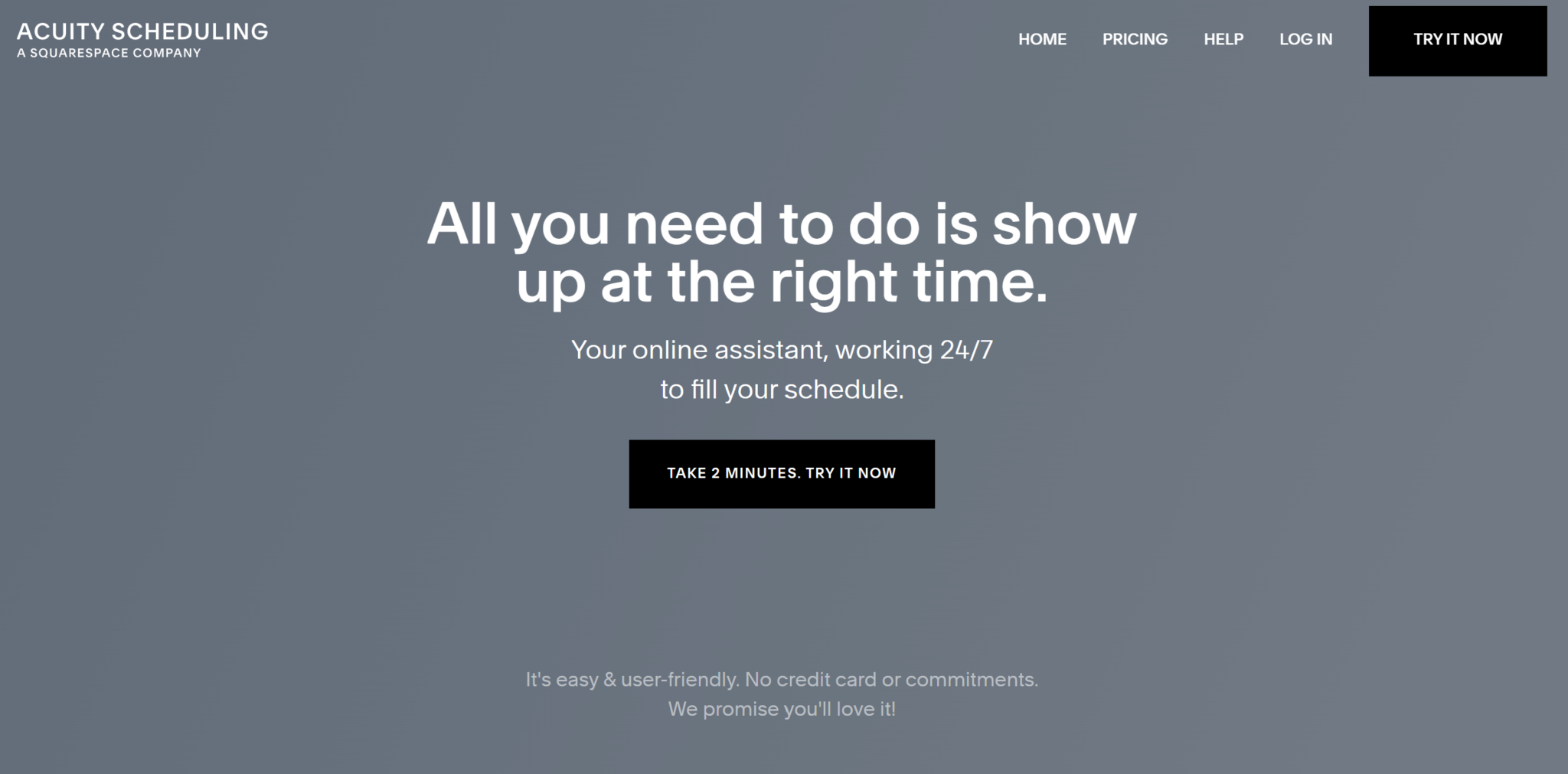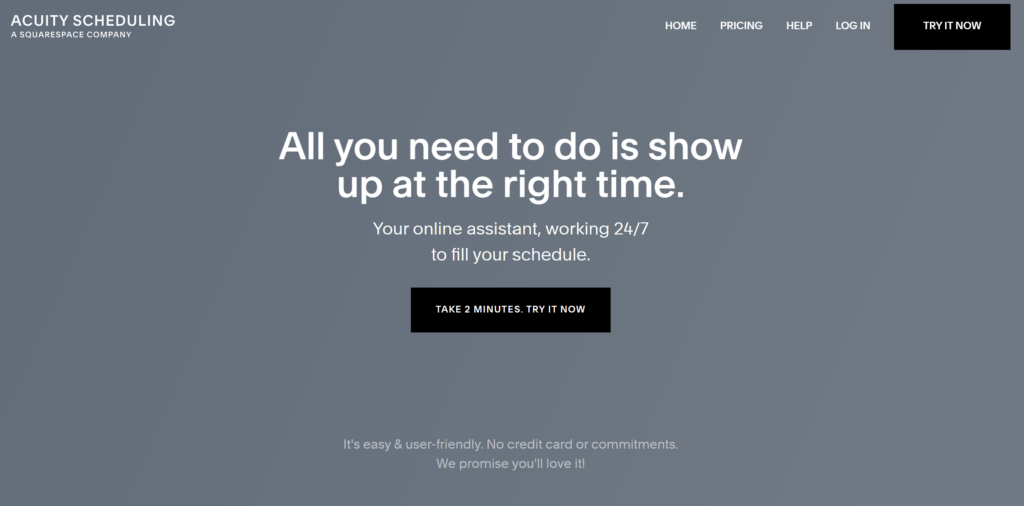 2. Acuity Scheduling
Powered by Squarespace, Acuity Scheduling is a cloud-based appointment management software that allows business owners to manage appointments and send reminders online. The software offers a 24/7 scheduling platform for freelancers and small to medium-sized businesses. Its main goal is to take the back-and-forth hassle out of scheduling appointments by allowing customers to book at any time.
Features
Acuity Scheduling has quite a few features small businesses can take advantage of. Some of the highlights include:
Calendar Management: The main feature of Acuity is the ability to organize your appointment schedule with a central calendar. The platform allows you to control and update your own availability at any time, so customers can only book within the time frame you select. You can also customize calendar views for both your customers and staff.
24/7 Booking (With Limitations): While Acuity offers 24/7 booking through a custom form, it only allows customers to book/request a single appointment slot at a time (rather than multiple). This may be a problem if you (the business) want to select the best appointment time from several options.
Multi-Location Capabilities: Acuity allows you to manage multiple locations and staff at the same time. You can also manage important staff and client information within the program.
Pre-Booking Forms: Users can also request important client information at the time of booking. With this feature, clients will fill out their own information about the appointment before they book. The appointment is created automatically with all the information you need to get started.
Payment and Other Integrations: The program also enables you to take payment information via Paypal and Stripe integrations. Several other integrations are available with this platform, including video conferencing and analytics platforms.
Who Is the Ideal User for This Software?
Acuity Scheduling mainly targets people who offer private lessons or classes, or for owners of small businesses like bakeries or hair salons. If your business relies on video conferencing to host meetings, those integrations may be valuable to you.
While the platform claims to have a very minimalistic, user-friendly interface, it can actually be quite complex. So if you're looking for a simple, intuitive way to manage your calendar, this may not be a good fit. While some customers report that the mobile app is more powerful than the desktop app, others complain that it still has limited functionality compared to competitors.
Pricing
Acuity Scheduling offers a three-tier subscription model, with options to pay on a monthly or yearly basis. They also offer a 7-day free trial.
Here's the breakdown:
Emerging : $15/monthly ($168/yearly). This first tier includes 1 staff/location, unlimited appointments, payment integrations, and virtual meeting integrations. However, you won't have access to text reminders, appointment packages, or subscriptions.
Growing: $25/month ($276/yearly). The second tier allows for 6 staff/locations, unlimited appointments, text reminders (with limitations) and appointment packages. It also gives you access to create subscriptions, memberships, and gift certificates. However, you won't be able to receive replies or confirmations from customers or send message sequences or follow-ups.
Powerhouse: $50/month ($540/yearly) – The final tier allows for 36 staff/locations, unlimited appointments, text reminders, appointment packages. It also unlocks HIPAA compliance and custom API integration. In order to remove Acuity branding from your interface, you'll need to upgrade to this tier.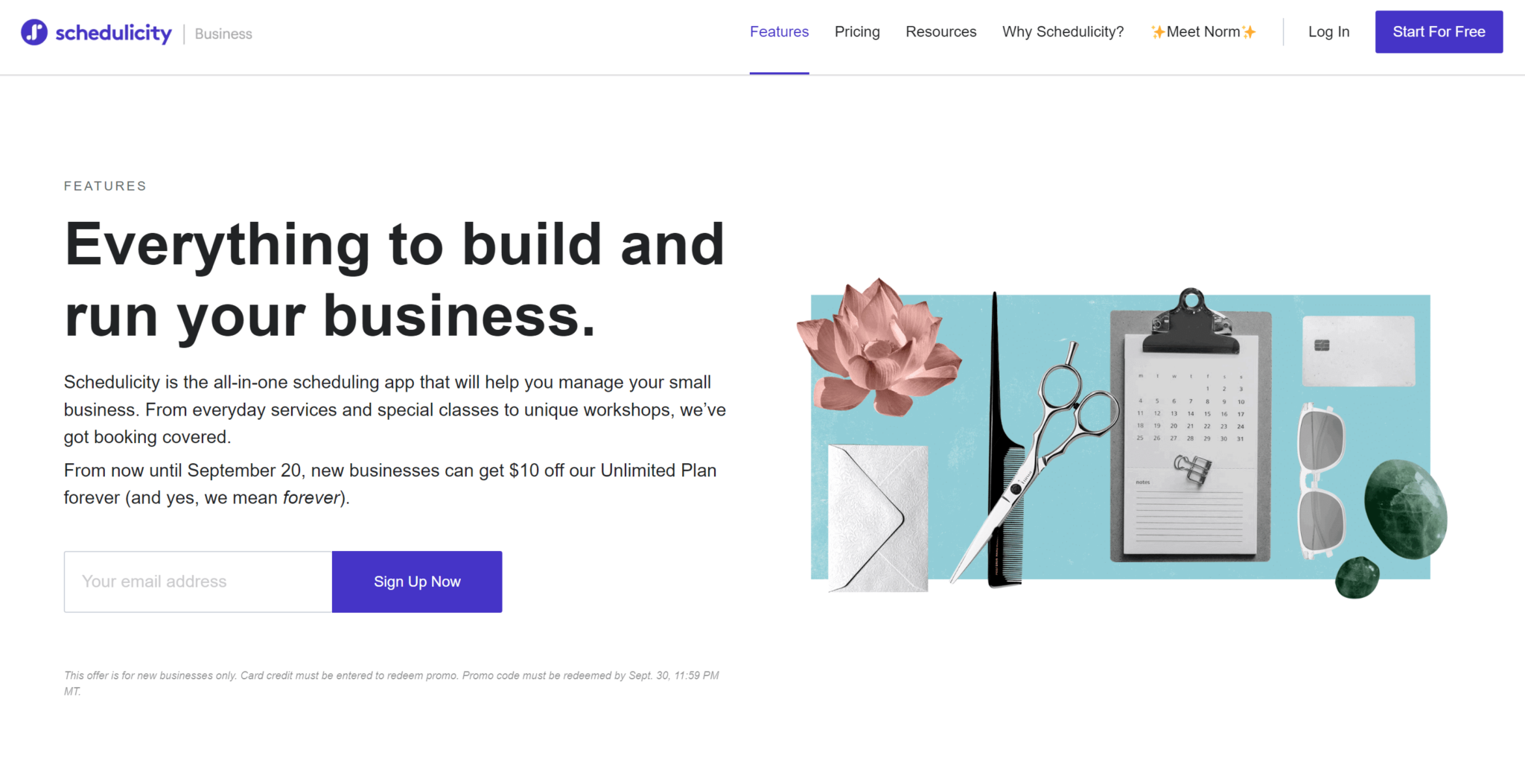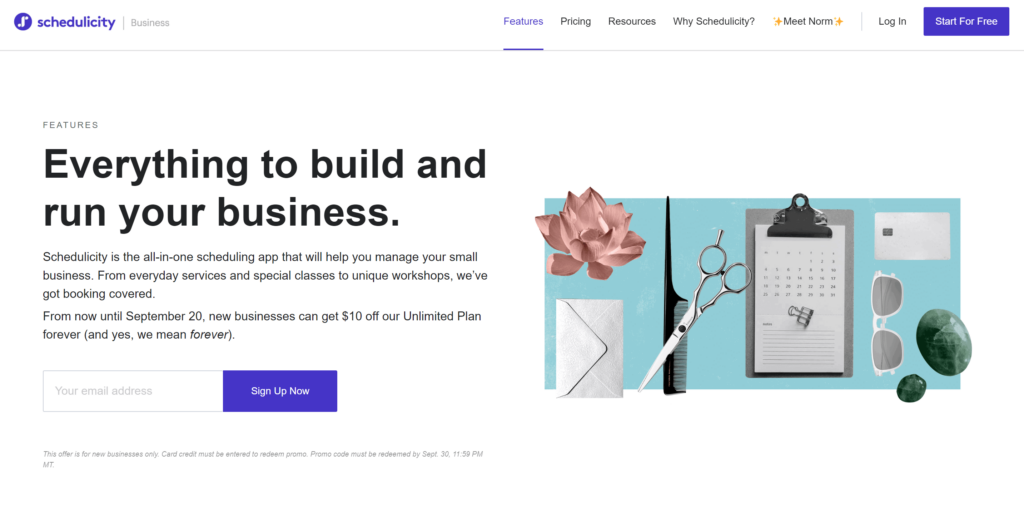 3. Schedulicity
Schedulicity promotes itself as an online marketplace. Users can list a business on their platform for customers looking to book appointments in their area. On the backend, Schedulicity gives you access to a number of scheduling and appointment management features. You can also add the Schedulicity button to your website and allow customers to book that way.
Features
Out of the several features Schedulicity offers, the most popular are:
Booking and Appointment Management: With Schedulicity for your business, you can edit and manage your calendar with color-coded events. You can also update your availability at any time.
Automatic Text and Email Reminders: Once you create an appointment, you can set up automatic text and/or email reminders to send to customers. However, Schedulicity does not allow you to receive custom replies from clients.
Class Management: Because Schedulicity is well-built for trainers and teachers, the platform also allows you to manage your classes with customized waitlists and waivers (depending on your industry).
Payment Processing: Schedulicity offers payment processing at 2.5% (plus 15¢) per transaction via their own payment platform called Norm.
Marketing Tools: In addition to listing your business on their marketplace with several other businesses in the same industry, Schedulicity also offers marketing tools like customizable email templates and text/email marketing options.
Who Is the Ideal User for This Software?
Schedulicity, an online appointment and calendar platform, is built for small business owners to schedule classes, workshops, and personal time. It is a simple, intuitive, and user-friendly application that functions as a calendar for mobile and desktop devices.
People who really want to take control of their marketing may do well with this app. Because they list your business on a marketplace, this may expose you to new customers online. However, it's important to keep in mind that you'll be competing with other businesses in your area and industry on the same platform. Besides that, it's unclear how well Schedulicity's marketplace is at generating leads, as most people tend to find appointment-based businesses through Google, Yelp, or the actual business website. So, it may not offer the most profitable form of visibility.
What's more, clients and potential customers will need to create a Schedulicity account to book, cancel, or reschedule an appointment. If your client base is resistant to that level of engagement with a third-party app, this may not be a good fit for you.
Pricing
Schedulicity offers two main subscription tiers: free and paid. The paid tier (Unlimited) has three sub-tiers depending on the number of users you add to your plan. For each paid tier, you gain access to all features, including everything in the free plan (with unlimited appointments) plus email and (limited) text reminders, customizable marketing tools, payment options, customizable service packages, and auto-billing.
But if you need to add more staff or locations to your plan, you'll need to upgrade. Here's what each tier includes:
Free: Limit of 10 bookings per month. This tier includes email reminders for customers (no SMS option), website integration, mobile app access, and basic marketing tools.
Unlimited (Solo Provider): 1 business owner profile included ($34.99/month). This tier is best if you are the only person running your business (i.e. independent contractors).
Unlimited (Growing Business): Up to 5 users, for an additional $10 each ($44.99 – $84.99/month).
Unlimited (Big Business): 7 or more users for a price of $94.99 / month.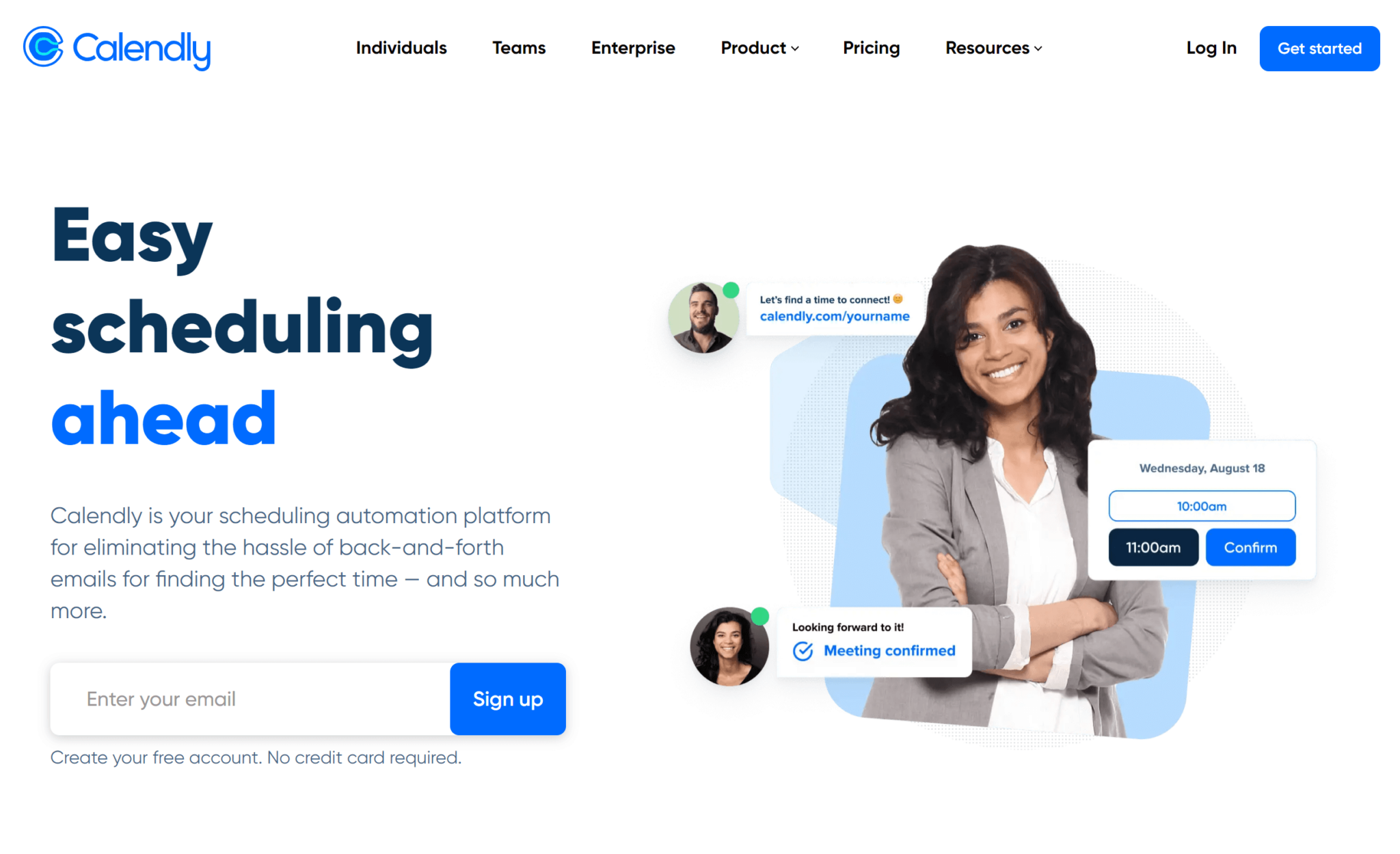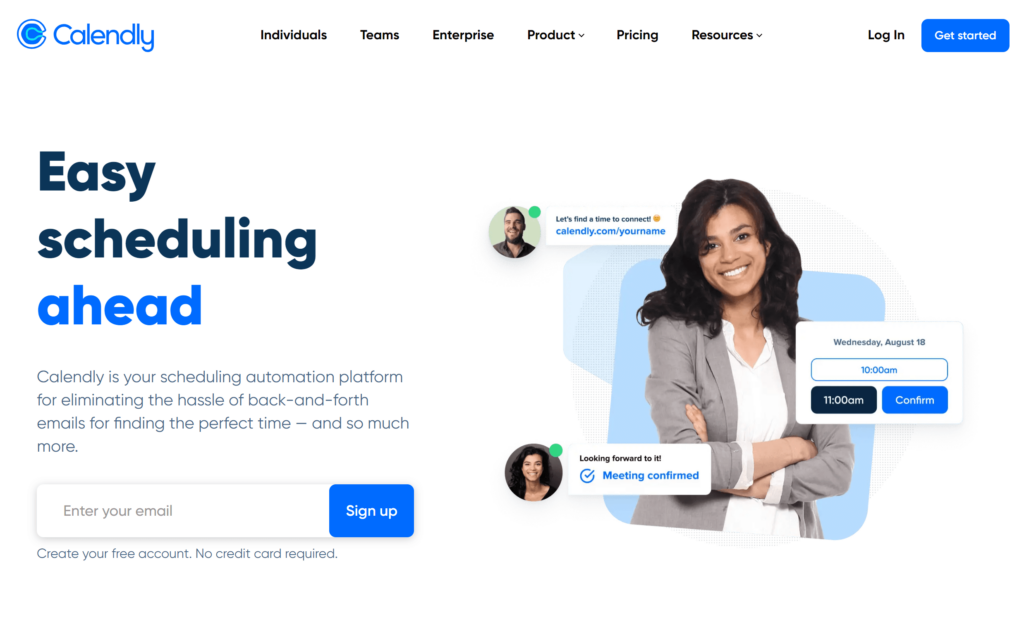 4. Calendly
Calendly is a popular scheduling and calendar management platform. The software's main purpose is to automate scheduling for large teams with large volumes of meetings. Their website prominently showcases "Special features for teams who conduct meetings at scale." They target people in sales, marketing, customer success, and similar team structures.
Features
While Calendly may not be a great fit for every team or small business, they do offer some impressive features such as:
Enterprise-Grade Security: For large teams with a greater need for security, the higher tiers of Calendly offer next-level protection. This is great for those in healthcare (where confidentiality is a must) and corporate teams looking to protect sensitive information and reduce the risk of hacking.
Multiple Meeting Settings: There is a lot you can customize with Calendly, including the option to create different types of meetings and services which staff members or customers can schedule and preset attendee groups to include on new events. Depending on your needs, you may spend a lot of time in the settings controlling your meeting preferences.
Third-Party Calendar Integrations: If you want to keep track of your schedule across several different calendar platforms, Calendly is well set up to do that. With some tiers, you can connect up to six calendars and automatically avoid double-booking your staff.
Booking Forms: You can easily customize and distribute your booking form to potential customers. With this feature, you can also screen and qualify people before they book a meeting with you.
Analytics: Calendly can interact with Google Analytics to show how clients and potential customers interact with different variations of your schedule and booking form.
Who Is the Ideal User for This Software?
While Calendly can work for small businesses and independent contractors, their main audience is large teams. They offer specific solutions for sales, recruiting, information technology, and marketing. The enterprise version of their software is also great for large teams that need to juggle high volumes of meetings and multiple staff.
It's important to note that Calendly does not offer a 2-way texting interface or follow-up/message blast capabilities. So, if you need a solution that allows you improve communications with customers in this way, Calendly isn't a great fit.
There's also a lot to set up in the beginning and many different preferences to manage manually. If you're dealing with a very tech-savvy customer base, you may benefit from these features. However, if you're looking for something quick and easy to set up and start using, Calendly may offer more than you need.
Pricing
Calendly offers a five-tier pricing model. Here's the full scope:
Free: The free tier includes just the basic functionality — 1 calendar connection per person, access to mobile apps and calendar integrations, unlimited 1-1 events, and unlimited one-off meetings. You can also create a customizable booking link and notifications. However, users of the free tier are limited to 1 active event type, no text reminders, and no ability to update your cancellation policy, among other limitations.
Essentials: $8 per user/month. The first paid tier includes all the features of the free plan with unlimited active event types, 2 calendar connections per person, the ability to manage group events, and links to confirmation pages. Once you upgrade to this tier, you gain access to update your cancellation policy as well as a few other features.
Professional: $12 per user/month. With their most popular tier, users have access to all features of the Essentials tier along with 6 calendar connections per person, collective one-off meetings, customizable reminder notifications, text notifications, automated workflows, and more.
Teams: $16 per user / month. The Teams tier offers all the features of the Professional tier (still with only 6 calendar connections), plus round robin event types, synced events across teams, and more. However, even at this tier, users don't have access to the activity audit log, the single-sign on feature, or advanced user provision settings.
Enterprise: Pricing for the enterprise tier of Calendly varies, likely depending on the customizations necessary for your team. You'll need to contact their sales department to discuss pricing and available features for this tier.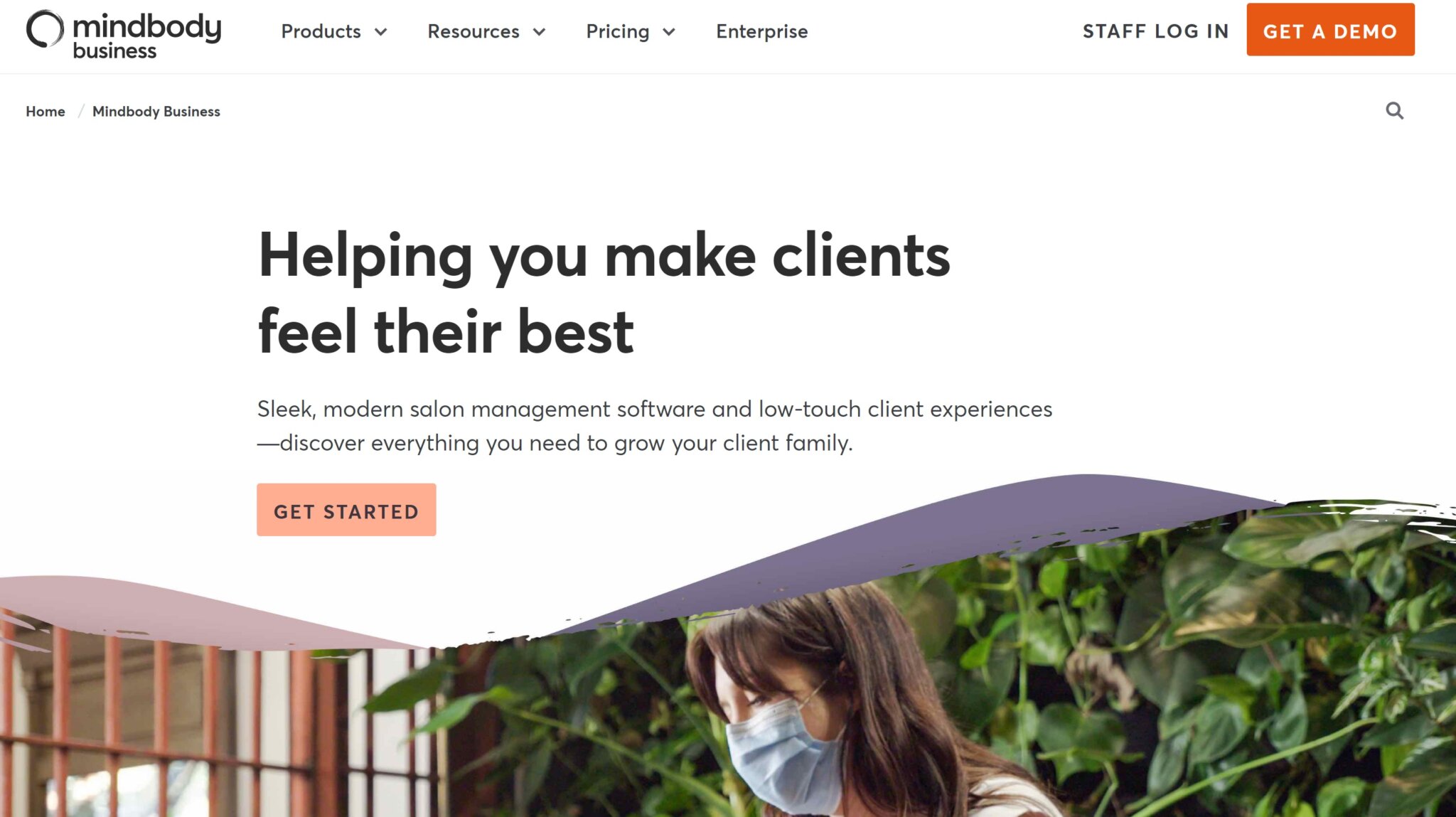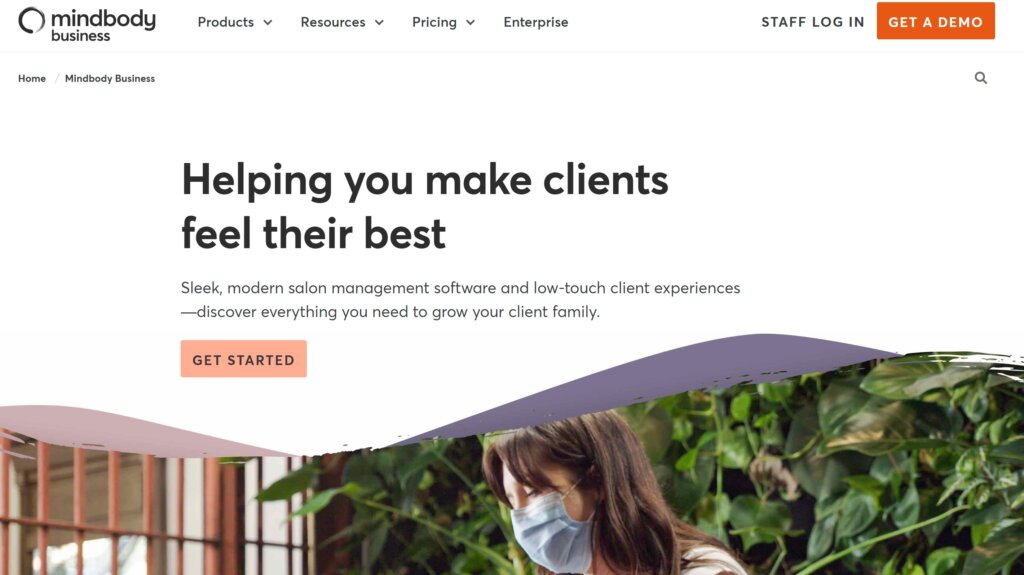 5. Mindbody
Mindbody is another marketplace app targeted specifically at small businesses in the fitness, salon, spa, and integrated health industries. By listing your business on their marketplace, their goal is to bring more people to your business through their app. They also provide scheduling, marketing, and payment processing tools to help you manage your appointments and grow your business.
Features
Mindbody is mainly used by independent instructors and small business owners. Here are some of the most notable features:
Marketing Tools: Mindbody offers marketing automation tools aimed at client retention. The platform allows you to make use of social media and customized messaging to promote your business.
Calendar Management and Booking: The platform also allows for calendar management, but its main focus is booking appointments. You can easily list your business on their platform (accessible via their desktop or mobile apps) and Google to gain more visibility. You can also manage staff and client info regarding specific appointments.
Analytics: Mindbody offers unique, user-friendly insights regarding sales, growth, and customer engagement. This helps you keep a close eye on how your business is performing.
Payment Processing: If you have multiple staff, you can use Mindbody to run payroll and request payment from customers at a charge of 2.75% per transaction. You can also view customer payment histories and track your revenue goals.
Who Is the Ideal User for This Software?
With the Mindbody app, clients can easily look for nearby fitness classes, wellness appointments, and beauty appointments anywhere they travel. For health, fitness, and wellness businesses looking to grow rapidly and promote their business while managing their revenue and business analytics, this may be a good option.
However, if you are not in one of these industries, you may not receive the most effective support from their team. Mindbody is also one of the most expensive options on this list, and may not work well for small businesses with tight budgets.
With any marketplace service like this, the prospect of gaining access to an existing customer base is certainly alluring. However, it's important to keep in mind that many people find businesses through Google, Yelp, or Facebook. Any new marketplace trying to compete with these giants may have difficulty generating enough leads to be valuable.
Pricing
While there is no free trial of Mindbody available, they do allow interested customers to schedule a demo with their sales team. For paid tiers, Mindbody's pricing varies somewhat by what type of business you own. Before you discover what each plan offers, you'll need to select your industry (Fitness, Salon, Spa, or Integrative Health). Here's the basic framework:
Starter: $129-$159/month. The Starter package gives you a handful of general scheduling features, including appointment scheduling, client and staff management, and some basic reporting.
Accelerate: $269- $279/month. The Accelerate package is designed to boost your marketing game by giving you access to customizable email templates and smart contact lists. You'll also get advanced reporting functions with this tier.
Ultimate: $429-$499/month. The Ultimate package gives you access to marketing automation features, including review prompts for customers, automated text and email marketing, and referral incentives.
Ultimate Plus: $549-$699/month. The main benefit of the Ultimate Plus package is access to an AI receptionist that responds to missed phone calls while you continue working. It also allows you to track real-time business metrics.
For all tiers (except Starter), building a branded mobile app is an add-on. You'll need to pay extra for a customized mobile interface.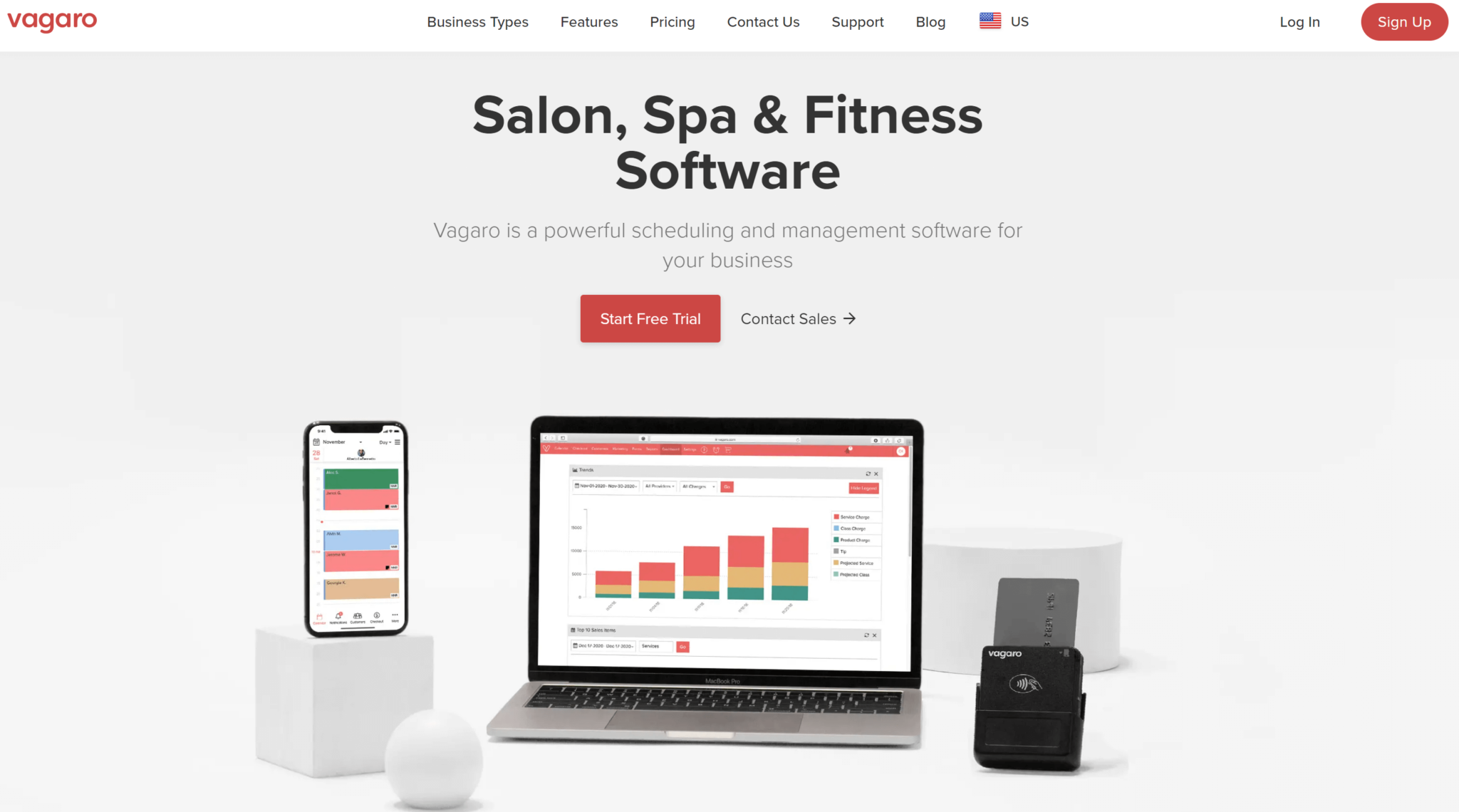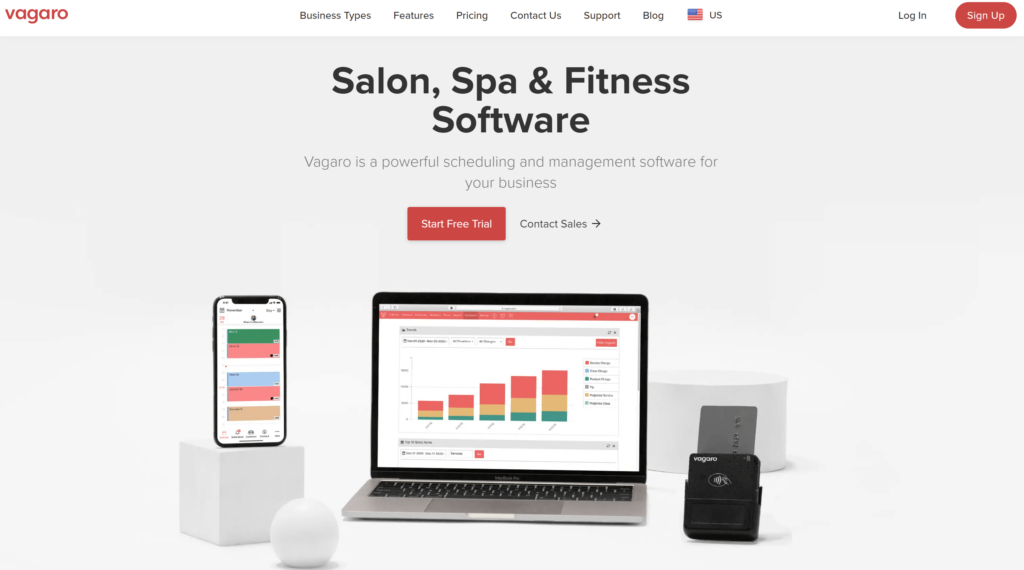 6. Vagaro
Like other marketplaces on this list, Vagaro promotes itself as a search engine for customers seeking appointments with salons, spas, personal trainers, professional services, and other similar industries in various locations. You can list your business on their marketplace and they'll provide you with scheduling software and other valuable features on the back end.
At times, the customer interface for local businesses can appear disorganized. Because of this, it might not provide the best visibility for your small business. However, there are several valuable features that may make Vagaro a worthy choice.
Features
Vagaro offers a wide range of features. Some of the most prominent include:
Intuitive Calendar Interface: With Vagaro, you can schedule and manage your meetings and appointments from a calendar interface that utilizes intuitive touch interactions (drag and drop, pinch to reveal details, etc.). It also allows you to send reminders to customers via email or text.
Payment / Invoicing: Vagaro's software allows you to process customer payments, send invoices (and invoice reminders), and run payroll while tracking your financial history in the same app.
Marketing: In addition to having your business listed on their marketplace, some paid subscription models offer automatic text and email marketing.
Reports: Vagaro boasts a number of reporting dashboard options, including for data relevant to inventory management, payroll, and time logs. It also integrates seamlessly with Quickbooks and Xero.
Website Builder/Ecommerce Store: The software also gives you tools to design and build your own website with customizable templates and shipping options (depending on your subscription model).
Livestream Integration: If your business makes frequent use of online classes or video conferencing software, Vagaro offers a livestreaming platform and the ability to charge a membership model for online classes.
Who Is the Ideal User for This Software?
Vagaro may be a good fit for busy salons, spas, gyms, personal instructors, or other service-based businesses with lots of staff. If you are looking for a platform to promote your business and make use of multiple features that help you manage your entire business, Vagaro certainly has something to offer.
However, their main focus is on beauty, wellness, and fitness. If you're in any other industry, you may have trouble benefitting from their marketplace. What's more, very few customers search for local appointment-based businesses outside of Google, Facebook, or Yelp.
Pricing
Vagaro offers a 30-day free trial with access to all features except text/email marketing and credit card processing. After that, users pay a monthly subscription fee based on the number of calendars (i.e. staff members) using the software. With all paid tiers, you'll gain access to nearly all features.
The first tier starts at $25/month per calendar (or staff members). Then, it increases by $10/month for every new calendar or person you want to add to your plan. The highest paid plan is $85/month for 7 or more staff members.
The main tiers provide you with access to most basic features, including 1000 free email marketing messages, invoice generation, and booking forms. You can also list your business on their marketplace with any subscription tier, but in order to "get noticed" by more local leads, you'll need to pay an extra $10 each month.
Beyond that, many other features are only accessible as premium add-ons. This includes:
Text Marketing – $20/month
Access to an Online Store – $10/month
Access to the Website Builder – $10/month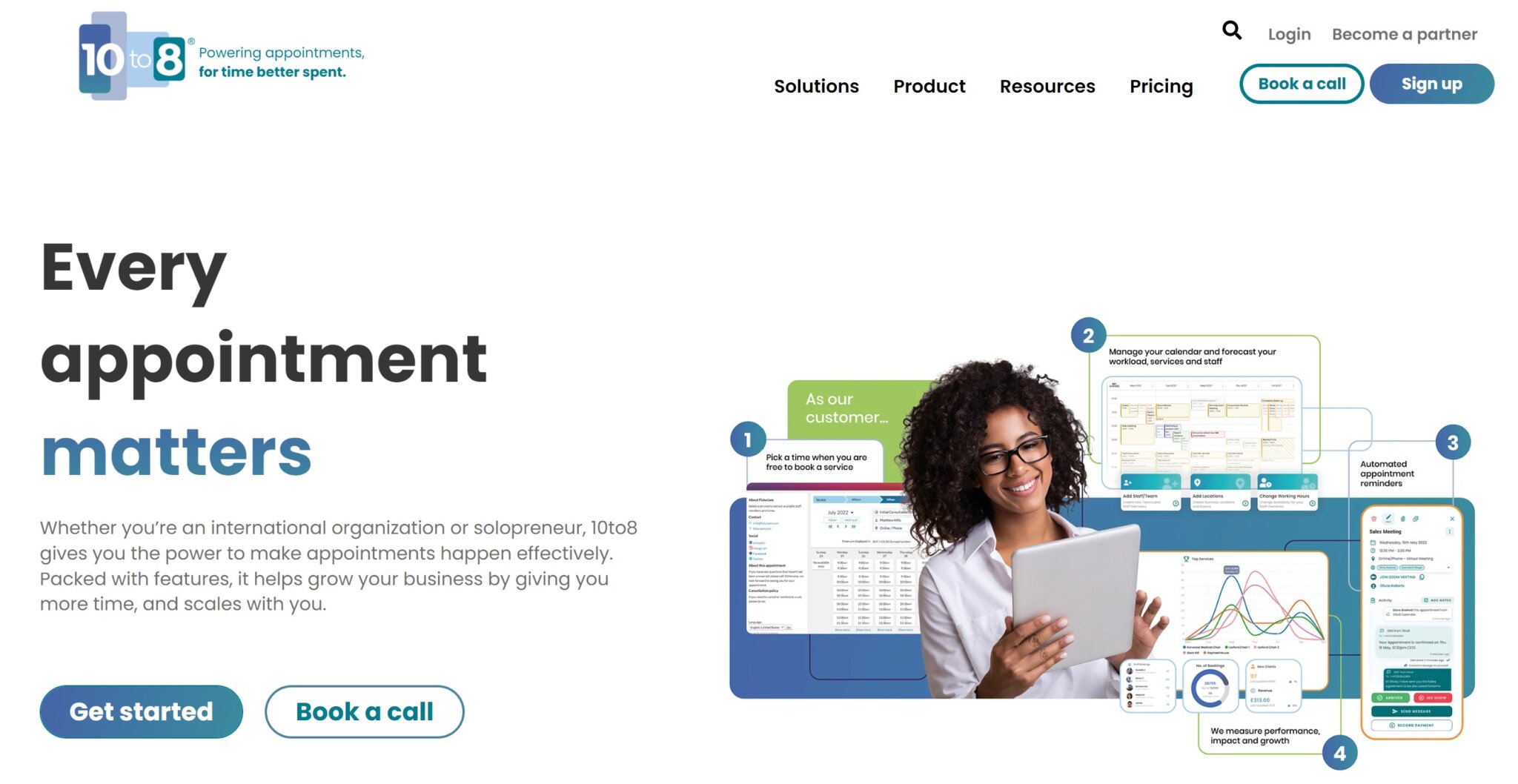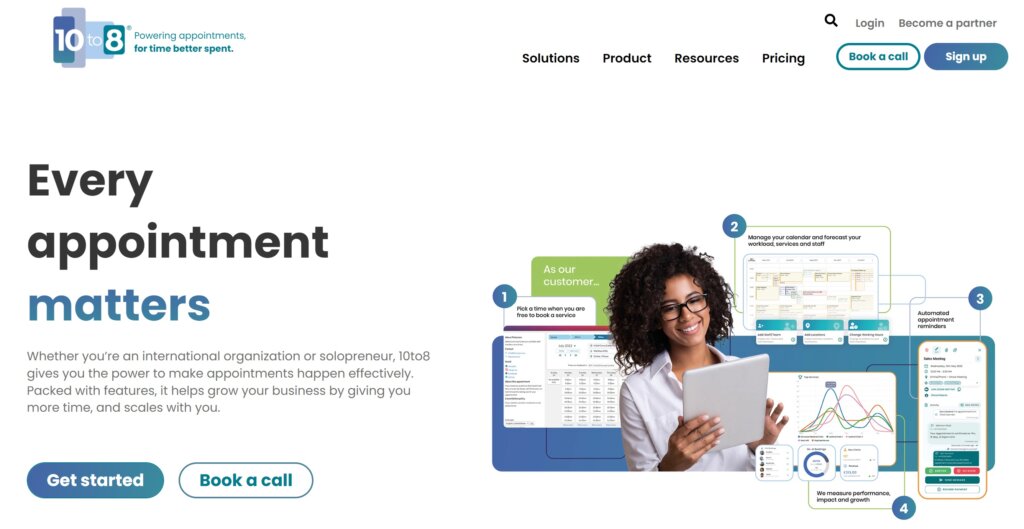 7. 10to8
10to8 provides scheduling and booking management software for large teams in a number of industries. The platform features a highly customizable calendar to manage meetings and appointments with multiple teams across different time zones. The software is powered by AI, which makes it somewhat unique among competitors.
Features
10to8 offers some valuable features for small businesses and independent contractors. Here are some of the highlights:
Sync with Multiple Third Party Services: You can use 10to8's flexible and customizable calendar interface to manage all your appointments and meetings in one place. The software also allows for integration with Google Calendar, Outlook, iCloud, and Microsoft Exchange.
Automatic Appointment Reminders: 10to8 allows you to send (limited) SMS, email, and voice messages to customers to remind them of their appointments and confirm their attendance. You can customize these messages to fit your branding.
24/7 Customer Calendar Access: Customers can access your 10to8 calendar to book appointments at any time. You can easily customize your availability and manage staff shifts across several calendars.
Metric Reports: Unique reporting allows you to track your scheduling data (and other KPIs) to optimize your workflow and remove scheduling bottlenecks.
Online Payments: 10to8 also allows you to accept payment online through Paypal and Stripe at the time of booking.
Who Is the Ideal User for This Software?
Small businesses looking for a simple solution to create calendars, schedule appointments, and send reminders may benefit from 10to8. By making use of the enterprise software, you can gain access to many features designed to help you grow your business.
Pricing
10to8 offers four main pricing tiers and an enterprise tier for large corporations. Each of the main four tiers offers monthly or annual billing options.
Here's how each tier works:
Free: The free plan includes 100 appointments per month, with 2 staff logins.
Basic: $12/month ($115.20/yearly). This includes 100 appointments per month, 2 staff logins, custom SMS messages, and customizable branding.
Grow: $25/month ($240.00/yearly). This includes 300 appointments/month, 3 staff logins, custom SMS messages, and customizable branding.
Bigger Business: $50/month ($480.00/yearly). This includes 600 appointments per month, 6 staff logins, custom SMS messages, and customizable branding.
Enterprise: Pricing for the enterprise plan varies (likely by unique customization needs). You'll need to contact 10to8's sales department for more information about this tier.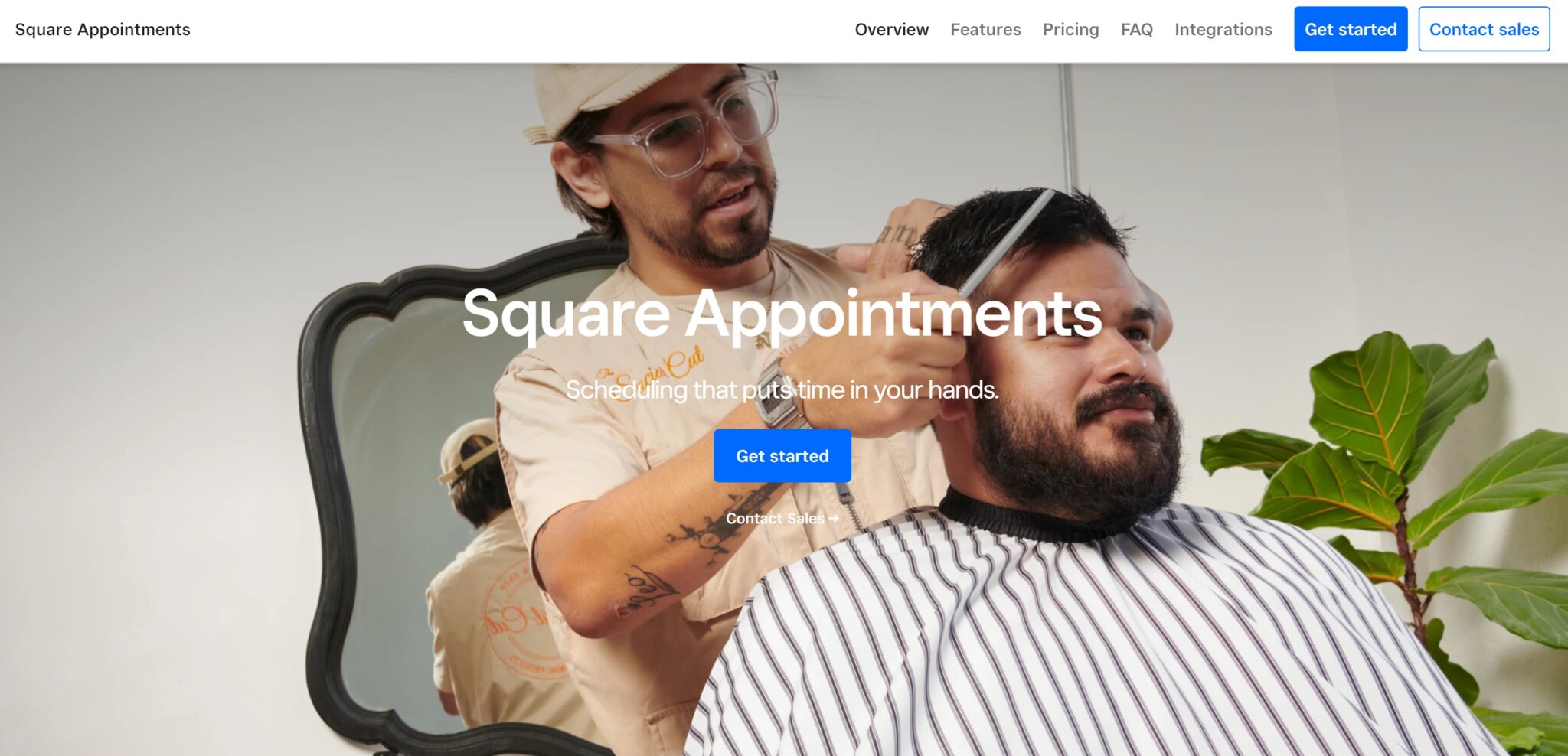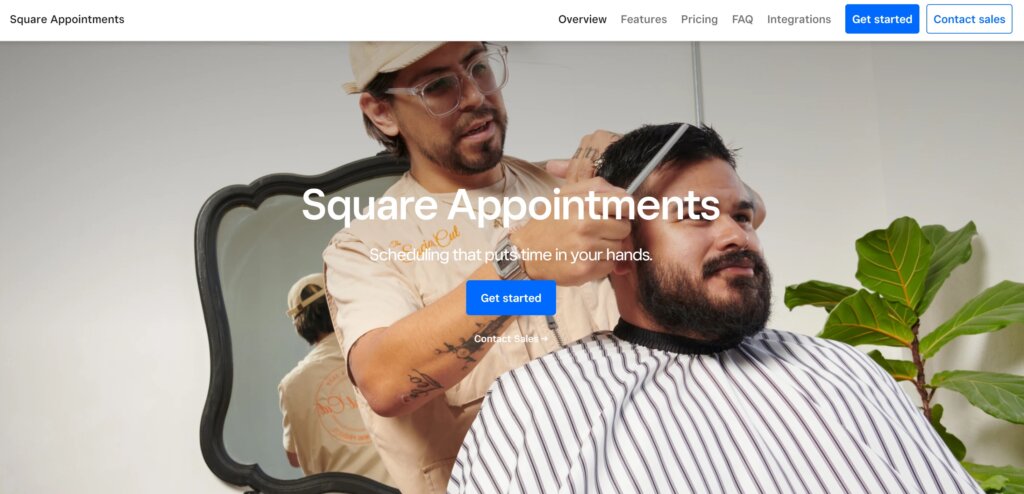 8. Square Appointments
Powered by Square, Square Appointments offers appointment scheduling and payment options in one platform. Square is also known for its ability to work easily from a tablet or mobile phone, which gives it a real competitive advantage on the market. Of course, the main competitive edge of Square Appointments is having your point-of-sale (POS) system and your appointment booking run on the same software. However, Square Appointments offers even more to small businesses.
Features
In addition to its built in POS capabilities, Square Appointments has many features that can benefit small businesses, including:
Flexible Mobile Apps: Square Appointments has mobile apps for both iOS and Android devices and can easily function on a tablet or desktop.
Complex Calendar Management: With a Square Appointments calendar, users can book recurring appointments with multiple staff across multiple locations. You can also manage client notes and details on the same platform.
Website Customization: The software allows you to choose the colors and layout for a customized website to match your brand standards. You can embed your booking form to allow customers to book appointments 24/7.
Email and SMS Reminders: Square Appointments also allows you to send automatic appointment reminders via email and text.
Instagram and Google Integrations: Users can sync Square Appointments with their Google Calendar and use the Instagram integration to interact with customers on social media.
Time Tracking and Payroll: Using the payment processing capabilities, you can track employee time logs and run payroll.
Who Is the Ideal User for This Software?
If you are already using Square to process payments, upgrading to Square Appointments may be a natural progression for your business. However, the Free and Plus tiers aren't ideal for large teams. Because these tiers don't allow you to set multiple wage rates, customize user permissions, or set appointments with multiple staff, this can make managing teams difficult on many levels.
Pricing
Square Appointments has three subscription models, including a free tier that offers a few basic features. For certain "qualifying businesses," they also offer discounted pricing and likely unique customizations. Here's a look at each one:
Free: While there is no subscription fee with Square Appointments' free model, there is a cost per transaction. In-person credit card transactions have a fee of 2.6% (plus 10¢). Online payments cost 2.9% (plus 30¢). Manual credit card entry and saved card transactions cost 3.5% (plus 15¢). With this tier, you gain access to Square's mobile app, customizable availability, and appointment reminders across multiple time zones. However, this tier doesn't provide access to automatic appointment confirmations or integration with Google calendars. What's more, you can only use this tier in a single location.
Plus: $29/month. With the Plus tier, the cost for each in-person transaction is 1% cheaper. All other transaction charges are the same as the free tier. You will also gain access to the Google Calendar integration, multiple staff appointments, appointment auto-confirmations, and no-show protection fees. However, you won't have access to multiple wage rates, custom permissions, or the resource management functionality.
Premium: $69/month per location. The cost per transaction is the same as the Plus tier. With this tier, users gain access to many functions necessary for team management as well as multiple wage rates, reporting, and custom user permissions.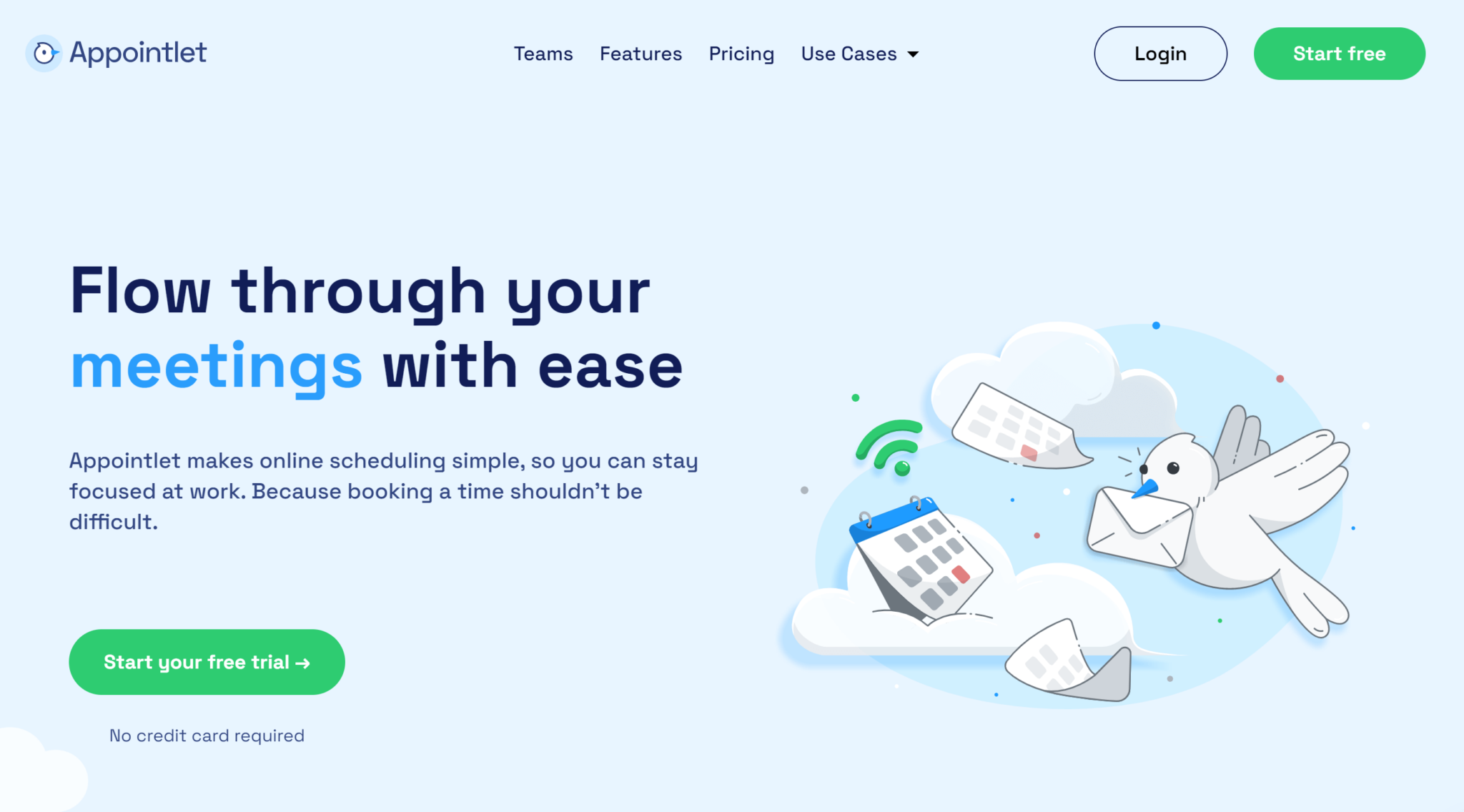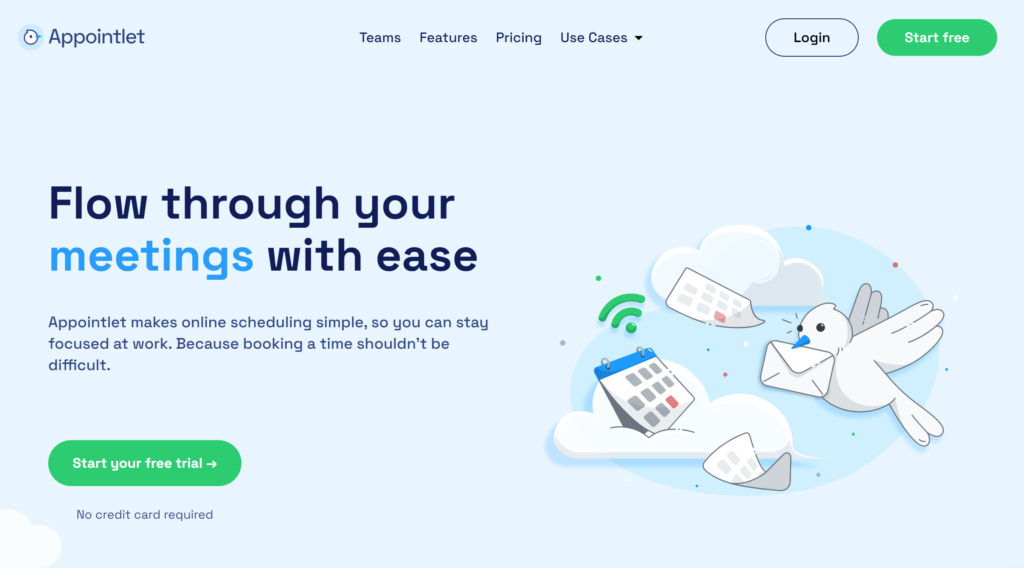 9. Appointlet
Appointlet is a simple, cloud-based, appointment scheduling platform focused mainly on increasing bookings for small businesses in the service industry. The software is optimized for a variety of team management and customer engagement needs.
Features
While the software is somewhat simpler than other choices on this list, several features make Appointlet a worthy contender:
Easy-to-Deploy Booking Links: Because Appointlet wants to help you book as many appointments as possible, it makes your schedule and booking form easy to share via a link. You can also embed your customized booking form and schedule on your website.
Automated Confirmation and Reminder Messages: For each meeting, you can automate appointment reminder messages and confirmations for customers and staff. This also allows for cancellation and rescheduling options.
Calendar / Appointment Management: Appointlet allows you to manage your appointments and meetings from a single calendar, plus set your own availability. The software also prevents double-booking and allows you to require advanced notice for booking.
Multiple Integrations: Perhaps the biggest strength with Appointlet is its ability to integrate with multiple other platforms, including Slack, Zoom, Zapier, Mailchimp, Paypal, Hubspot, Firefox, LinkedIn, and many more.
Who Is the Ideal User for This Software?
Appointlet specially targets teams that conduct group appointments, helping to ensure all attendees make the meeting on time. Ideal industries include sales, marketing, interviewing, customer success, and education. As such, large teams with specific objectives in these areas may benefit from Appointlet. Although Appointlet is created to function with practically all devices, it does not have a dedicated mobile app. If your business relies heavily on mobile devices to conduct business, this may not be the best choice.
Pricing
Appointlet offers one free tier and two paid tiers (each with monthly or annual payment options). A 15-day free trial is available for any tier you choose. Here's how each one works:
Free: The free tier includes unlimited members and meeting types, some integrations, and customizable intake forms to gain client info before a booking. However, automatic reminders and the ability to manually approve meetings aren't available with this tier.
Premium: $10/month ($96/yearly) per member. With this tier, users gain access to payment collection, manual booking confirmation, customer redirection features, and more integration options (like Zapier). This tier basically offers the full suite of features, with a few exceptions.
Enterprise: The Enterprise tier is intended for large corporations and features custom pricing. In order to learn more about this tier, you'll need to contact Appointlet's sales team. Enterprise users can enjoy the full suite of features plus top priority customer support, account reviews, and improved security.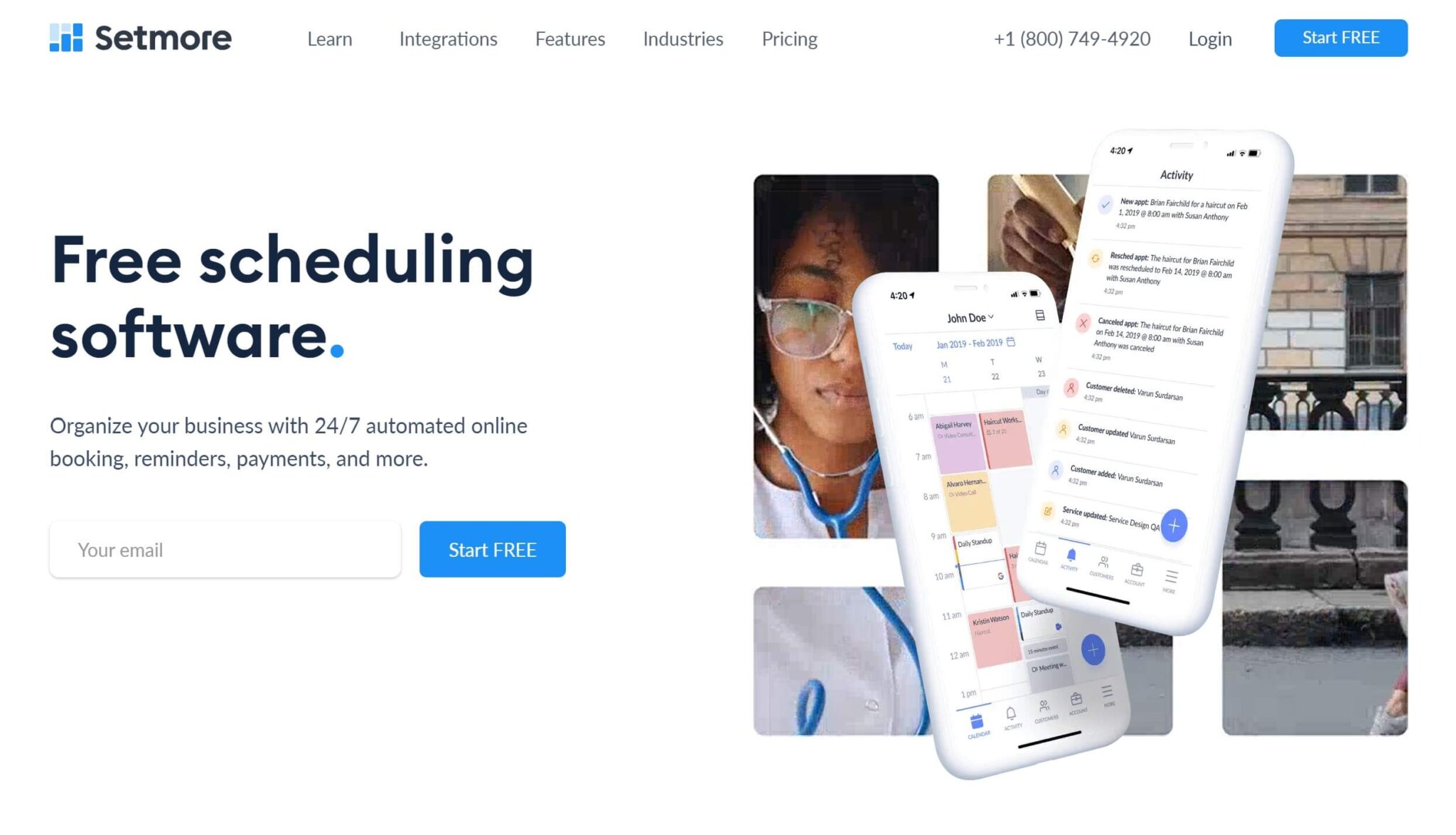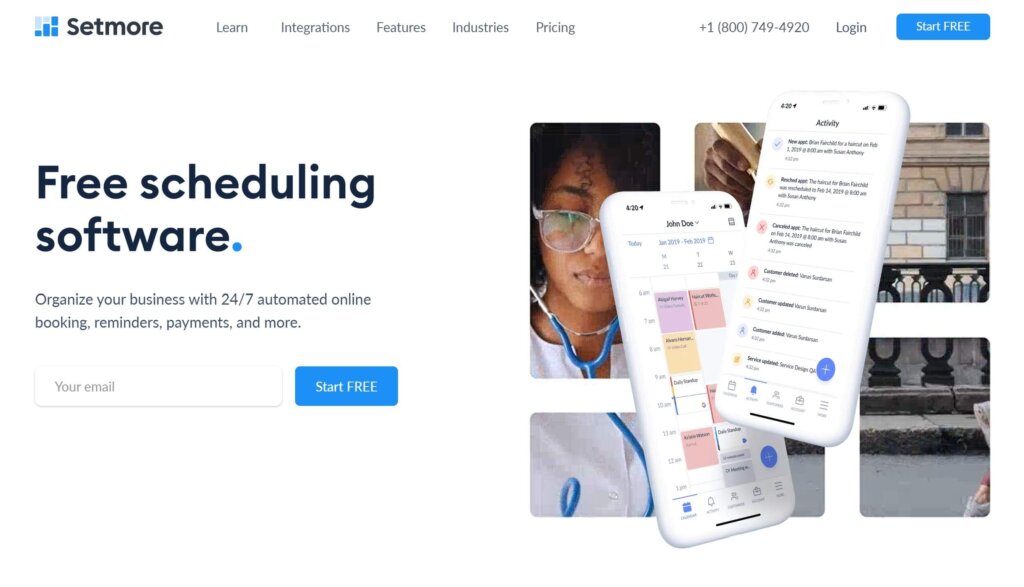 10. Setmore
Setmore is advertised as a free (or cheap) scheduling software option for small businesses. It allows for 24-hour online booking and appointment reminders. It also includes payment processing options via Square and Stripe.
Setmore is simple by design, but some small businesses and independent contractors may benefit from features like the multiple third-party integrations.
Features
Setmore is available on both desktop and mobile devices. The software's full suite of basic features can help small businesses manage appointments and calendars in one place.
Here are the highlights:
Custom Booking Page and Widget: Setmore gives you the ability to customize the booking page to match your brand and embed a booking/schedule widget on your website.
Calendar Management: Setmore's calendar features allow you manage multiple staff calendars at once and sync them to Google, Apple, and Office 365 calendars.
Group Meetings and Class Booking: A huge strength of Setmore is the ability to connect video conferencing with your schedule to host online group meetings and virtual classes. With a single link, meeting attendees can click to join a virtual meeting with multiple popular integrations.
Email and SMS Reminders (With Limitations): For each meeting, Setmore allows you to automate text and email appointment reminders. However, this comes with some unfortunate limitations. In order to gain access to this feature, users have to upgrade to the Premium or Pro subscription plan. Setmore's fine print reads "You can use as many text reminders as needed, up to your plan value. If you hit your plan's limit, Team Setmore will reach out to you." With this, limits may vary based on a number of unknown factors, and it's unclear how to proceed if you reach your plan's limit.
Payment Processing: By integrating with Square and Stripe, Setmore allows you to collect payment before customers book an appointment.
Who Is the Ideal User for This Software?
Setmore is a good choice for many small businesses and contractors, but there are some drawbacks. If you want to be sure about the number of text reminders you can send with your plan, Setmore doesn't offer a lot of clarity. But if your business relies on video conferencing to host appointments, their many integrations may benefit you.
Pricing
Setmore's pricing is a bit confusing, but it's undeniably cheap across all plans. Here's the breakdown:
Free: The free plan allows up to 4 users and 100 email reminders per month. However, free users won't have access to SMS reminders or 2-way sync with Google calendars and Office 365. Beyond that, the free tier only allows for payments with Square (not Stripe or other payment platforms).
Premium: $12/month ($60/yearly). This first paid tier is limited to 2 users. However users gain access to SMS reminders (with limits), unlimited email reminders, customized notifications, recurring appointments, and the Zoom integration. This tier also unlocks Stripe and Paypal as additional payment methods.
Pro: $9/month ($60.00/yearly). The Pro tier allows access to everything in the Premium plan for 3 or more users, plus the option for HIPAA compliance. It is supposedly optimized for growing teams, but it is unclear what features are intended to help with that goal.
Final Thoughts
When looking for scheduling software, there are certainly a lot of options to choose from. Most of the software options on the market today are geared toward specific industries or niches that may or may not work best for you.
It's important to take a close look at your business model, your scheduling workflow, the size of your team, and the needs of your staff. What features are most important for you to optimize your day-to-day functions? Many platforms offer several useful features, but not all of them will be important for your business.
It's also important to think about pricing. Looking at all the different pricing tiers can be overwhelming. But taking time to dig through different packages can help you see which option is the most valuable. Some pricing models may seem expensive upfront, but consider the return on investment you could generate from saving time and reducing missed appointments with the right set of features. What could you do with your business if you could use automation to take care of tedious tasks and get back more of your time?
With GoReminders, you can save time and money with just the basic suite of features. The software is flexible enough to meet the needs of many different types of businesses as they grow. It's quick and easy to set up and even easier to use. Within just 30 seconds, you can start managing your busy schedule, reminding customers about their appointments, and growing your client base automatically.
Sign up for a free 14-day trial of GoReminders today to decrease appointment no-shows and boost your scheduling workflow.