Appointment Scheduling App & Software that's Easy-to-use
This is the best appointment scheduling app because it sends automatic text & email reminders to your clients. Online scheduling saves you time & makes you money.
Try It Free
Our appointment scheduling app saves you time and makes you money. We make it easy for you to schedule appointments online in our software - on any computer, iPhone, iPad, or Android device. Your clients will receive automatic text reminders for appointments (or email reminders if they want...or both or none!).
What makes GoReminders the best appointment scheduling software for a small business or large company?
Best Scheduling App - Easy Setup
10 second setup (really) to start using the appointment scheduler – faster than all other scheduling apps.
Appointment App
We are wherever you are – access our appointment scheduling software online on any computer or download the scheduling app for iPhone/iPad/Android.
Free Appointment Scheduling Software - 2 Week Free Trial
Try GoReminders for 2 weeks free. Most free scheduling software only lets you send email reminders, and a free scheduling app is usually meant to remind yourself (not your clients). If you're looking for free online appointment scheduling apps, read the details carefully before spending a lot of time setting it up. Our free trial gives you full access to all features of the scheduling app so you can accurately demo it and see how it is in daily life. You can test drive all aspects of our client appointment reminder app and see how much your clients will love it. Our free trial is completely free, no credit card needed.
Simple Scheduling
Our remind app for business makes online appointment scheduling easy for anyone – you don't need to be a "computer person" to use our appointments software. If you've used a regular old appointment book before, you're ready!
Customizable Reminder Messages
You can completely customize the appointment reminder messages to use your own wording that your clients will understand. Our schedule app allows you to create multiple reminder message templates and even use multilingual appointment reminders in every language.
Appointment Confirmations
After getting reminded about appointments, your clients easily confirm appointments by text message or email. Your confirmed appointments automatically show with a check mark in GoReminders.
Saves You Time
A scheduling system that saves you time by automatically keeping track of how each of your clients or customers wants to be reminded. If you need recurring appointment reminders, you just enter it once in our online scheduling software, and GoReminders automatically reminds your customers weekly, monthly, quarterly or whatever interval you need.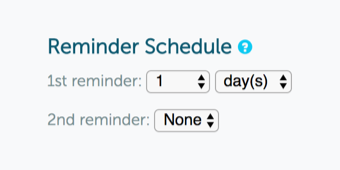 Clean & Powerful
It has powerful features, but if you don't need 'em, you won't even notice them because GoReminders automatically hides stuff you don't use, unlike other scheduling programs and appointment book apps. Less clutter saves you time and energy!
Appointment Book
This is a super-charged online scheduler disguised as a simple appointment book app. It's an easy-to-use appointment calendar that sends calendar reminders to your clients.
"Of the 30 online schedulers I have used, yours has been the most efficient, easy to use, and reliable. Your recurring appointment feature is top notch and will save my life. We will immediately commit to a year long recurrence with your company. You may be the winner of the 7 year cal app search." - Luis Rivera of Embrace Yourself Wellness
Send reminders to your clients. Try it free!